Privacy Policy Cookie Policy
Intellectual Property Archive
Video interviews, panel discussions, articles and Q&As featuring

intellectual property

.

Latest Interview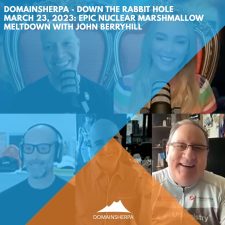 As we say on DomainSherpa – all roads lead to domains. And in the reverse, domains has us venturing "down the rabbit hole" into different topics all the time. This is a tech-adjacent, digital asset, pop-culture, tangent-positive monthly podcast – with some domains stuff thrown into the mix for good measure.

In this episode, co-hosts JT & Jen Sale are joined by leading domain attorney John Berryhill along with Drew & Ammar to talk about some additional legal issues related to domains with a lot of discussion about Whois privacy, parking domains, stolen domains, some issues at Epik.com, and a whole lot more!

So, tune in and jump down the rabbit hole with the Rabbit Hole Gang!
DomainSherpa March 23, 2023 2

More Interviews
Hear perspectives from Zak Muscovitch, Karen Bernstein, Stevan Lieberman on the historic US Supreme Court decision regarding the trademark on Booking.com, plus vital thoughts on how this may impact domain valuations from Andrew Rosener.

Any domain investor, domain attorney or corporate domain manager, will benefit from today's show!
DomainSherpa July 13, 2020 7
In this interview, Internet attorney Howard Neu, who successfully represented Rick Schwartz in the SaveMe.com uniform domain-name dispute-resolution policy (UDRP) case, discusses the details of the UDRP, how to improve your chances of winning a UDRP, and how Vanity.com could have improved the chances of winning their UDRP.

Including:
* The requirements of a complainant to win a UDRP
* What you are doing today that might be considered "bad faith"
* How the SaveMe.com UDRP was so easily defended
* How Vanity.com, Inc. could lose its domain, Vanity.com, when it owned a trademark
* What domain investors need to know to successfully defend a UDRP
Michael Cyger June 25, 2012 16

Today's guest first became knowledgable about domain names as a webmaster at the dawn of the World Wide Web and later while working at an Internet high-flier. Now, he is an attorney specializing in intellectual property and domain names.

In an interview that will be sure to interest entrepreneurs, start-ups, and domain name investors, David E. Weslow discusses: buy/sell domain name agreements, trademarks, auto-blogging software that is popular with WordPress-powered websites, UDRP issues, lawsuits, and much more.
Michael Cyger July 26, 2011 28

This website uses cookies to improve your experience. We'll assume you're ok with this, but you can opt-out if you wish.

Accept Read More

Privacy & Cookies Policy