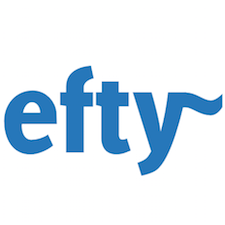 I am very excited to announce that I have taken an investment position in Efty.com, the leading domain name investing platform.
Why?
Domain name investing is one of the most lucrative opportunities I've found. But you can't improve your investing performance if you don't measure it.
That's where Efty comes in.
In addition, Efty will help elevate domain names as an investable asset class, just like real estate, commodities, and private equity.
I'm honored Doron and Lionel allowed me to join their team. They get stuff done, on a consistent basis, and do it well. I couldn't imagine two better partners for Efty. And they are two of the nicest people you will meet in the industry.
Working together, we will help you track, measure and improve your investing performance. And, we plan to give you all the features and functionality you would expect from an investing platform. We have a fantastic roadmap that will save you time, ensure you domains reach the largest audience of potential buyers possible, and sell more domains.
If you haven't tried Efty, please sign up for a free trial.
The press release is below.
Best regards,
Michael
P.S. If you are going to The Domain Conference September 28-30, please look for me there!
---
Leading Educational Publisher Joins Domain Name Software-as-a-Service Investment Platform to Accelerate Development and Growth
GRONINGEN, HOLLAND, September 25, 2015 – Efty.com, the leading domain name investing platform, today announced that Michael Cyger, publisher of the award-winning educational website DomainSherpa.com, has invested in Efty and will work with founders Doron Vermaat and Lionel Petitiaux to advance domain name investing.
This funding round will fuel continued growth in sales, marketing and product development for Efty in the multi-billion dollar domain name investing market.
Because domain names are in limited supply, they present a unique investment opportunity. Savvy investors acquire domain names priced lower than their intrinsic values; those domains can be held long-term for capital appreciation, sold for short-term gain, or monetized through a host of recurring revenue streams. Demand for the resale of domain names is fueled by the more than 8 million businesses that start up each month around the world, most of which need a website and domain name.
Efty helps investors manage their domain name investment portfolio, providing clear insight on performance while helping to boost leads, sales and revenue.
Michael Cyger's investment in Efty and new business agreement align with DomainSherpa's mission to educate investors and entrepreneurs about the opportunities and benefits that exist with domain names as an investable asset class.
Executive Quotes
Doron Vermaat, Head of Product, Efty.com
"We are excited to have a seasoned publisher like Michael join Efty as both an investor and team member because of his award-winning educational and publishing background, as well as his financial services experience at both GE Capital and Citigroup. We see the opportunity that exists to empower investors to take control of their financial independence by investing in domain names, and we have defined the roadmap to achieve this goal. Together, we will make Efty the one tool that investors cannot live without."
Michael Cyger, Publisher, DomainSherpa.com
"I've tracked the evolution of Efty for two years and am excited to join the team in creating the future of domain name investing. Doron and Lionel are genuine entrepreneurs with a real passion for and commitment to domain name investing. With the right tools, domain name investing can be very profitable. I have no doubt that Efty will be the one, indispensible tool that every professional investor will need. I'm pleased to be associated with the Efty team and investing platform."
About Efty
Efty helps you manage your domain portfolio, giving you clear insight on its performance while helping to boost leads, sales and revenue. Forget spreadsheets, archived emails and notes scribbled on scraps of paper, Efty is the one solution that helps you manage your entire domain name investment portfolio in one place – with a secure and confidential platform. Become a professional domain name investor with Efty. For more information, visit the company's website at www.efty.com.
About DomainSherpa
DomainSherpa is the leading educational media company dedicated to the domain name industry. It is the place where you can learn all of the secrets of the domain name industry – directly from the experts, or Sherpas. Our mission is to provide unbiased, authoritative information to help you discover, acquire, manage, monetize and sell domain names. For more information, visit the company's website at www.domainsherpa.com.
Contacts
Doron Vermaat
Efty.com
doron /at/ efty.com
Michael Cyger
DomainSherpa.com
michael /at/ domainsherpa.com
Efty and DomainSherpa are registered trademarks or trademarks of Efty B.V. or Web X.0 Media LLC in the Netherlands, United States and other countries.
If you enjoyed this article, subscribe for updates (it's free)