Video interviews, panel discussions, articles and Q&As featuring
Latest Interview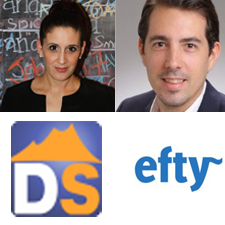 Doron Vermaat, co-founder of Efty.com, the unique commission-free domain name sales and portfolio management platform, joins us to discuss his insights into the industry.
DomainSherpa October 29, 2019 5
Do you want an excuse to close a domain name sale this month?
Here's your motivation: a free escrow for your next domain name sale.
But hurry! Efty.com has just launched Payoneer Escrow integration and for the month of April 2017, you can get a free escrow transaction.
Michael Cyger April 7, 2017 4

On this Profitable Flips, we talk to Marty Pelletier, a domain name investor who focuses on marijuana-related domain names.
From his personal experience, he understands the difference between cannabidiol (CBD) and tetrahydrocannabinol (THC), two main ingredients in the marijuana plant.
While many other domain investors focus on THC, Pelletier has bought up many CBD domain names, one of which he picked up as an expired domain name for $27 that he sold for $10,000.
Learn how he's managing his portfolio and is expanding into other positively trending areas like virtual reality and drones.
Michael Cyger February 13, 2017 51
Last year we interviewed Christian Calvin about two profitable flips ($81 to $12,500 and $99 to $9,000, both within just months of acquisition).
Today we learn how Calvin has sold more than 200 domain names (a 17 percent portfolio sell-through rate), garnered more than $200,000 in revenue, and profited by more than $60,000.
You'll also hear how he selects his brandable domain names, what his process is for managing domain names, how he optimizes his sales process, how he's trying to liquidate 30 to 50 domains per month at NameJet to right-size his portfolio, and why he turned down a six-figure offer to sell his entire portfolio.
Michael Cyger December 26, 2016 27

How does Doron Vermaat earn $40,000 profit per year while only investing 10 to 15 hours per week? Find out in this interview.
Vermaat shares:
* How he learned to value brandable domain names
* What he does as soon as he purchases a new domain name
* How (and how fast) he responds to inquiries from potential buyers
* Why he ends each email with a question
* How he softly pushes just a little further to increase the sales price
Michael Cyger October 3, 2016 88
Efty is announcing something we've been working on for a while: a new, beautiful marketplace theme gallery.
Why is this important?
I tell you in this short video overview. (P.S. No more need for a website…we'll help you list all your domains for sale! It's really cool. Check it out.)
Michael Cyger June 16, 2016 28
Efty is announcing something we've been working on for a while: a For-Sale landing page theme gallery.
Why is this important?
I tell you in this short video overview.
Michael Cyger January 4, 2016 13
I'm very excited to announce that I have taken an investment position in Efty.com, the leading domain name investing platform.
Why?
Domain name investing is one of the most lucrative opportunities I've found. But you can't improve your investing performance if you don't measure it.
That's where Efty comes in.
Michael Cyger September 25, 2015 25