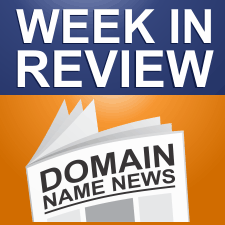 Every Friday, DomainSherpa.com provides you with a hand-selected, editorially-based review of the weekly news. In this summary, you will find the latest articles and videos produced by DomainSherpa staff and contributors. You will also find links to the best news articles in the domain name industry – so you don't have to spend your time searching for news or reading something that was not worth your time.
---
This Week's DomainSherpa Interview
---
VIDEO: Domain Names and Search Engine Optimization – With Danny Sullivan

To have a website that ranks highly in search engines like Google and Bing, just how important is the domain name? For the most reliable information on this topic, I invited the leading authority on search engines, Danny Sullivan, to join me on DomainSherpa.

Listen in as Sullivan discusses the often-debated relationship between domain names and search engine optimization, including:
* Do keywords within the domain name help search engine optimization?
* Are keywords within the domain name better than just having keywords elsewhere in the URL?
* Is buying a premium generic domain name a good investment for a new business?
And many more
---
This Week's News in Review
---
Domain Names With Geo Specific Keywords Offer Local Ranking Opportunities [Study] – 21-Mar-12
The goal of this study on the weight of domain names in rankings was to evaluate the performance of a related series of keywords in 10 different geographic locations and put them head to head against a term directly associated with the domain name.
Generic Top-level Domains: What Every Brand Manager Should Know – 21-Mar-12
This article is by David A. Einhorn, partner, and Lesley Portnoy, associate, at law firm Baker Hostetler. Rod Beckstrom, CEO of the Internet Corporation for Assigned Names and Numbers (ICANN). (Image credit: AFP/Getty Images via @daylife) The days of .com domination may be coming to a close. The Internet Corporation for Assigned […]
Ari Goldberger Beats Back UDRP On UTV.com – 21-Mar-12
Ari Goldberger beat back a UDRP on the domain name UTV.com brought by UTV Limited of Belfast. The Complainant was formed in November 1958 as Programme Contractor for Northern Ireland and was incorporated as Ulster Television in 1959.
.NYC Domain Names May Finally Become a Reality – 21-Mar-12
If the "Made in NYC" label wasn't enough to cement your status as an integral part of the burgeoning local tech community, perhaps a .NYC domain name might pique your interest. Luckily for enterprising young founders hankering to swap .ly or .co for a cooler extension, the New York Times reports today that the city is seeking a contract with a Virginia-based company that could bring us closer to finally landing .NYC's.
Abbott Labs Registers Over 500 Domains for Abbvie Spinoff, Hand Registers … – 20-Mar-12
Abbott Labs paid the normal registration fee for its new brand domain, but gets defensive with…
Company Files Class Action Lawsuit Against GoDaddy Over Free Privacy Service – 20-Mar-12
Company says it should not have been charged to renew whois privacy services that were initially free.
Domainate Announces Domain Boot Camp – Provides Years of Domain Training to Beginners through Live Two-Day Workshop – 20-Mar-12
The domain industry is baffling to most of those looking to enter it, with many closely guarded secrets that are never shared. Because of that, few people are able to reach their long term goals in the domain industry despite there being enormous success enjoyed by some domain professionals. Domain sales and service company Domainate intends to change that through their intensive live 2-day training workshop, Domain Boot Camp, led by Domainate CEO Sharon Hayes and COO Steve Jones.
Escrow.com Taps in to DomainTools API – 20-Mar-12
Escrow.com has integrated DomainTools into its security and process systems using its API, the two companies announced today.
Tucows Stock is On a Tear – 19-Mar-12
Shares of Tucows (TCX) have been on a tear over the past month. After trading in a fairly narrow band since August, shares have popped 41% since February 16. Shares opened February 16 at $.76 and closed at $.88. The stock had another nice pop on March 13, when shares jumped from $.95 to $1.05.
Clements Brothers Launch New Domain Name Auction House and Brokerage Service – 19-Mar-12
Two domain industry veterans who also happen to be brothers, David Clements and Toby Clements, have joined forces to launch a new domain name auction house and brokerage service called Brannans.com.
Ethics Fight Over Domain Names Intensifies – 18-Mar-12
Pointed remarks followed a complaint from the Commerce Department. But China and Russia have their own complaints and would like to reduce American influence over the system
Registrars Group Campaigns to Transform .IE Namespace – 15-Mar-12
A new group consisting Irish domain name providers and web hosting providers plan to campaign against what they believe to be restrictive policies of the .ie Domain Registry (IEDR), Siliconrepublic.com has learned.

If you enjoyed this article, subscribe for updates (it's free)