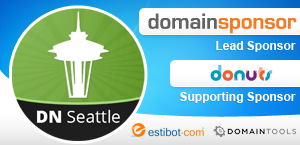 Not only do we have two FANTASTIC sponsors — DomainSponsor.com as our lead sponsor and Donuts.co as our supporting sponsor — allowing us to host our premiere DNSeattle event on the top of the Space Needle, but a couple of other companies have stepped up to make this the best domain name meetup event of 2014.
Get this!
* One (1) Apple iPhone 5s or iPod Air will be given away as a door prize to a lucky winner, compliments of Estibot.com
* Everyone will receive a 60-day free trial to Estibot and Dropping at the Advanced level (a $99/customer/service/month, totaling about $400/customer) (not applicable to existing customers; not transferrable) from Estibot.com and Dropping.com
* Three (3) 6-month Pro memberships to DomainTools loaded with report credits and other neato stuff (a $300-$1000 value each) from DomainTools.com
Not only will you have a great time, learn something and network with other domain name entrepreneurs and investors, but you're going to go home with some awesome schwag!
THERE ARE ONLY 8 TICKETS REMAINING
If you haven't registered, go register by clicking the red "Join us!" button: http://www.meetup.com/DNSeattle/events/153106652/
If you've registered but your friend/co-worker/acquaintance hasn't yet, make them go register now! :) http://www.meetup.com/DNSeattle/events/153106652/
If you want to learn more about domain names, improve your investing knowledge, hear entrepreneurial success stories, learn the secrets of the industry, or just get out from behind your computer and meet some people, this is the meetup for you.
DNSeattle will focus on domain name buying, selling, monetizing, due diligence and legal issues, success stories from Seattle-based entrepreneurs and investors, and much more.
WHERE
Top of the Space Needle! Views of downtown Seattle, ferries on Elliott Bay, EMP, Lake Union, Cascade Mountains, Science Center and Capitol Hill.
WHEN
Thursday, January 30th, 2014 from 6-9pm.
Learn more at DNSeattle.com
If you enjoyed this article, subscribe for updates (it's free)