Every domainer has their own process to appraise and market domain names for sale. Few domainers are willing to share their tested secrets. But Chris Goh is not a regular domainer. Some would even call him unorthodox.
If you are in need of help getting targeted traffic to your domain names so you can support a "buy this domain name now" call to action, then Chris Goh, Creative CEO of BullShitWebsites.com, has some unorthodox tactics you may want to try. These three creative tactics may not be right for you, but they may get you thinking creatively.
---
1. Always Be Marketing Your Domain Names
---
If you happen to work for one of the tech companies in Redmond, Washington, you may have noticed Chris driving his pickup truck through the streets right around the end of the business day… and seen two of his domains on the back window: GoodKarmaToYou.com and BullShitWebsites.com.

This reflects one of Goh's unorthodox rules for raising awareness of domain names: "Always be marketing. You never know who's looking." Goh also wears t-shirts with domain names, and hands out free t-shirts at community events. Oh, and he's not above a little graffiti now and then.
---
2. Paid Advertising is Fine, Free Advertising is Better
---
Goh got into the domaining business not long after getting laid off in 2001 – for "not being creative enough," he mentions ironically. Since then, he's used a number of original practices to keep his domain business dynamic.
One of this favorite unorthodox domaining tactics is to use free eBay listings. "I had this idea some time ago, but didn't do anything about it until I started getting coupons from eBay for free 7-day listings. So I started listing outrageous offers that would draw anyone with a bone of curiosity to check it out," says Goh. Right now, you can buy "the biggest jade in the world" for a mere $350,000 or a set of domain names related to home health care for $888,000.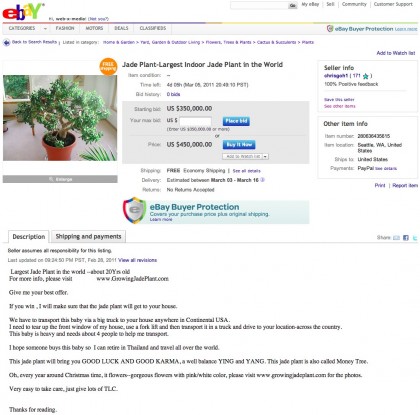 Goh has used this creative technique many times (whenever he gets an eBay coupon) to drive traffic to websites and advertise domain names he's selling. "The more outrageous the asking price, the better," Goh says. "The point is to attract attention. It's nice if somebody wants to bid, but it's free. As long as I make money on Google AdSense, I'm fine."
For his next listing, Goh wants to put a price of $9 million on it. "That kind of thing really pulls attention," he says. "The more attention, the more traffic, the more money! So what have you got to lose?"
---
3. Look for Alternate Ways to Value Your Domain Names
---
His third unorthodox domaining tip is to find the unrealized value in the domain names you already own. "Someone contacted me about buying my domain professionaldealers.com," says Goh. "I asked myself what other similar domain names that person might be interested in and reached out to the owner of professionaldealer.com [no s after the word dealer]."
The other domain owner wanted $150,000, but wasn't really interested in selling because he was going to build an online gambling site in hopes that states like New Jersey will soon approve on-line gambling.
Knowing this information not only help Goh set a value on the domain name he owned, but he could point out to the potential purchaser that having a plural version of an active domain would help drive traffic to the domain that Goh currently owned. "You have to crosscheck what your competitors are doing," says Goh.
The value of domains is going up everyday, he adds. "So keep your eyes open. The best thing you can do is to be creative. One road always leads to another."
If you enjoyed this article, subscribe for updates (it's free)