Privacy Policy Cookie Policy
Domain Name Interviews
DomainSherpa interviews successful domain name investors and entrepreneurs – people we call Sherpas – who share their strategies and tactics to help you be more successful. Hosted by Tess Diaz.

Latest Interview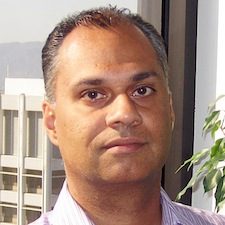 We all have domain names that are begging to be developed. Or an idea that we would love to test and see if potential customers like it enough that we can build a profitable business.

But what if we don't want to design the user experience, hire a developer, build a website, sign up for hosting, or spend any money launching? Can it be done?

It can. And Raj Beri has returned to the show to tell us exactly how to do it. Listen in as Beri describes how to rapidly prototype and test a business idea, including with what industries or with what products or services, and how successful it can be.
Michael Cyger January 13, 2014 4

More Interviews
.Club is targeting one million registrations by the end of Year 1, and five million registrations by the end of Year 5. And they have the focus, marketing plans and public relations in place to help achieve their goals.

In this interview, .Club CEO Colin Campbell and CMO Jeff Sass discuss the winning auction (in which they beat out Donuts and Merchant Law Group with a bid somewhere less than $5 million), their registry mission, potential customer base, customer adoption, marketing, availabilities phases, valuation of both their domains and .com equivalents (e.g., wine.club versus wineclub.com), and much more.
Michael Cyger January 6, 2014 21

All domain name investors say their parking revenue has decreased over the past few years. Stop complaining and do something about it.

The last two weeks of the year are the perfect time to think strategically about building a business that creates cash flow in 2014.

The DomainSherpa editorial staff has selected seven interviews — our must-watch recommendations for entrepreneurs and wantrapreneurs.
Michael Cyger December 23, 2013 6
According to Consumer Reports, "of the more than 54,000 dietary supplement products in the Natural Medicines Comprehensive Database, only about a third have some level of safety and effectiveness that is supported by scientific evidence. And close to 12 percent have been linked to safety concerns or problems with product quality."

Learn why Sol Orwell, the founder of Examine.com, came out of retirement to educate people about the waste and issues associated with the $10+ billion dietary supplements industry; how he partnered for success; why he chose the brandable domain name Examine.com over exact-match domain names like Supplements.com; how he iteratively grew the business while updating their business model; and much more.

If you are or thinking about developing a Internet-based business, this is a must-watch interview.
Michael Cyger December 16, 2013 6
Ken Hansen was leading the .NYC top-level domain launch for Neustar. But an opportunity came up that he felt was even bigger than .NYC, one of the most anticipated new gTLDs pending launch.

In this interview you will learn about the mission of the Co.com registry, how the registry is operated, what their marketing plan and tactics include, how pricing will be structured in the land rush and general availability phases, and how they will grow registrations.
Michael Cyger December 9, 2013 21
Understanding the basics of a revenue-generating website is half of the equation to successfully building and exiting an Internet business.

In this interview, a successful entrepreneur and business broker walks us through the fundamentals, including understanding – in detail – how to value websites, how he finds so many buyers in the $50,000 to $5 million range, and what types of businesses are always in demand by buyers.
Michael Cyger December 2, 2013 25

In this interview we hear about the history, current operations and future aspirations of a leading registry service provider: CentralNic.

Learn how the team at CentralNic can help run the domain name system of a new top-level domain, how they can assist in selling third-level domains, and how their distribution network can open up new opportunities for your registry.

In addition, CentralNic has raised 5 million pounds as a result of their listing on the London Stock Exchange, which will allow them to partner more closely with some of the hundreds of new top-level domains that are going to launch in the next couple of years.
Michael Cyger November 25, 2013 8

Microsites used to be all the rage. Everyone had one, it was easy to rank on search engines, and website owners made lots of money from advertising.

But times change, Google continues to refine their ranking algorithm, and microsites are all but dead. Or are they?

Today's guest has made a career out of long-tail and traffic and continues to innovate. In this interview, we learn how he started, what used to work, and how today's environment requires a much different strategy and set of tactics than just a year ago.
Michael Cyger November 18, 2013 25

Past DomainSherpa interviews have highlighted the power of exact-match domain names (EMDs) to instantly create business credibility, increase organic rankings in search engine results, and generate type-in traffic by potential customers.

Today's interview offers proof that EMDs can also assist in increasing the click-through rate of advertising on search engines like Google's AdWords platform, decrease the amount per click spent on advertising by 35 percent, and increase the conversion rate of clicks to actual customers by 30 percent.

Those are big benefits in themselves, but the final proof is that – while holding all other factors constant – a change in business and domain name from brandable Beep.com.au to exact-match CarLoans.com.au produced a 66 percent increase in sales turnover, driving their business from a $60 million company to $100 million in only five months.
Michael Cyger November 11, 2013 27

Nokta Domains went from no domain name leases to earning as much from leasing as they do from domain name parking.

Merve Engin, manager of domain name leasing, joins us to share how Nokta generates leasing leads, what their pricing methodology is, how they encourage leasees to purchase the domain at the end of the term, and much more.
Michael Cyger November 4, 2013 15