Video interviews, panel discussions, articles and Q&As featuring
Latest Interview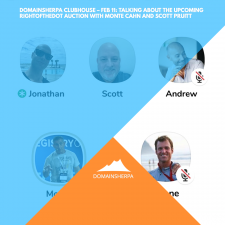 We take DomainSherpa to Clubhouse for the first time! JT, Shane, and Drew are joined by Monte Cahn and Scott Pruitt in a Clubhouse session to talk about the upcoming RightOfTheDot auction taking place on February 25, 2021.
Be sure to tune in!
DomainSherpa February 12, 2021 1
Last week, the T.R.A.F.F.I.C. Domain Conference & Expo took place in Fort Lauderdale, Florida. Top domain investors from around the world converged at the Ritz Carlton for five days of networking, sharing, learning, partying and dealmaking.
Here are five lessons learned that you can use to grow your business that I gleaned from this conference. If you attended the conference and learned a lesson or two that is not covered here, please let us know about it in the comments.
Michael Cyger October 23, 2011 23

Hundreds of millions of domain names have been sold in the past, yet the future of the domain name industry is based on our ability to bring additional services into the industry, such as insurance, titles, initial public offerings or stock exchanges. This requires a standard methodology and formula for valuing domain names.
Andrew Rosener has taken a brave step forward to share his domain name valuation methodology. Andrew's methodology is not the final say; it is the start of the discussion. Watch the interview, test his formula and contribute to the conversation by suggesting methodology improvements in the comments.
Michael Cyger May 17, 2011 95