Video interviews, panel discussions, articles and Q&As featuring
Latest Interview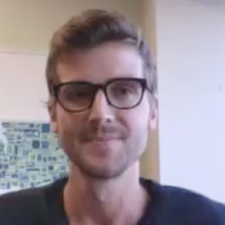 Anyone who buys expiring domain names knows that there are three major auction sites on the Internet. But of the three, NameJet.com is the one that seems to get fantastic domain names on the most regular basis.

In this interview, NameJet General Manager Matt Overman walks us through how private auctions work and describes how you can take advantage of them too.
Michael Cyger January 28, 2013 19

Jason Davis' wife called him crazy when he bought Recruiting.com for $75,000 in 2002. But four years later Davis sold it to Jobster for a six-figure price. He realizes that his end users – the people who buy his job- and recruiting-related domain names – don't wake up in the morning thinking about spending five figures on a domain name that day. He knows he must give them a reason to do so – and he does that by framing the price of the domain in terms the buyer best relates to.
In this show, Davis describes how concentrating his efforts on a single domain name niche helps him make stronger industry connections, earn more in sales and find more entrepreneurial opportunities in his area of expertise.
Michael Cyger September 20, 2011 22
Any domain name that reaches expired status and is not renewed by the owner will likely be auctioned by an exclusive auction service.
If you really want a domain name, find out which auction service the domain name will be auctioned at and get your bid ready.
Michael Cyger June 19, 2011 301

Many domain investors are on-the-go and away from their computer for a good portion of every day. The problem is that domain name inspiration can strike at any time — watching TV, in transit, at a meal, or at the gym — and looking up availability, whois information, and alternatives is difficult without a computer. Fortunately, there are a number of domain name-related iPhone applications that you can take with you to accomplish these tasks.
These 10 essential iPhone apps will help you to determine the availability of your desired domain name, enter keywords to produce domain name suggestions, look up important information on existing domain names, and much more. These apps are available in the iTunes store, and most run on iOS 3.0 or higher and are under $2.00.
Andrew Tenney April 17, 2011 7

Belief in conspiracy theories requires a healthy dose of paranoia, and domain name front running (DNFR) – the idea that domain name registrars like Go Daddy or Network Solutions are monitoring your domain name availability queries and registering anything you don't immediately register yourself – sounds like a presumption of only the most suspicious and mistrustful. However, evidence suggests that DNFR does in fact occur. This article tells you how to avoid being taken advantage of.
Michael Cyger April 3, 2011 65
Have you received an email from someone interested in purchasing a domain name you own? Do you feel like you're in the dark on how to respond to an end-user? A reply to buy a domain is a sensitive matter. Replying back with too much information, or even the wrong information can turn a sure sale into a dead deal.
Jason Allen Goodlin February 20, 2011 27
A fellow Seattle Tech Startup subscriber recently posted her thoughts about a domain name that was taken before she could reserve it. In short, she checked the availability of a domain name at Network Solutions on one day and it was available for registration, but then returned a subsequent day only to find it reserved by someone else. Any person would find this frustrating, but I think this is no more an example of domain name front running than Bing was stealing Google's results and using them to improve their own search engine results. Here's why.
Michael Cyger February 4, 2011 4