Video interviews, panel discussions, articles and Q&As featuring
Latest Interview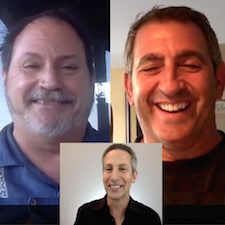 In his first interview since selling his portfolio, Michael Berkens answered some questions about the the WorldWide Media domain name portfolio mega-sale to GoDaddy. I asked him how much he sold his portfolio for, what he bought as a result of the sale, and what's next for him.
Also, Berkens and Monte Cahn discuss the $24 million dollars worth of domain names that are going up for auction at the NamesCon conference in January 2016. Want some insider information on which domains will have no reserve, be the best value, or will have the highest resale potential? This is the show to watch!
Michael Cyger December 21, 2015 19
In this DomainSherpa Discussion:
• WordPress buys Thesis.com in bad faith but wins UDRP on technicality, or was it?
• Domain Name investor rights are buoyed by a recent UDRP ruling — find out why.
• Fake website Bloomberg.market taken down by Rightside registry — bad precedent?
• Nat Cohen's Telepathy teaches a reverse domain name hijacker a lesson in court and walks away with a settlement.
• Reader question: What are the Sherpas oldest domain names?
• Reader question: How should a newbie appraise and price 400 domain names for listing on buy-it-now marketplaces?
• Reader question: Which is better two word .co or .xyz or two word with a hyphen in .com?
• And much more!
Michael Cyger July 23, 2015 7

In this DomainSherpa Discussion:
• Berkens sold Moon.Rocks for $8k — a real investor-to-end user sale! We hear the details.a
• Autism.Rocks sells with an initial offer of $100k – something seems fishy.
• Sedo.com charges the seller of Autism.Rocks 15% when it should have been 3%.
• Is the recent spate of new gTLD sales a trend or outliers? The Sherpas sound off.
• Why is ICANN trying to remove privacy protection on whois records for ecommerce companies?
• Reader question: is it rude to ask a domain name investor how much they earn?
• Reader question: How to start a domain name leasing business?
• Reader question: Are selling brandables bad faith when you know there's a company that can benefit from it?
• And much more!
Michael Cyger June 25, 2015 13
In this DomainSherpa Discussion:
• How to invest $10K if beginning investing today: ten $1K domains or one $10K domain?
• After negotiating, seller goes unresponsive. What are your options now?
• When is a bird in the hand worth ($10K offer today) two in the bush ($50K in years), and how do you get the courage to reject a good offer?
• General Motors goes .Green. Is it more work, or a wise PR move?
• RandPaul.com sells for $100,980. "Ransom check" or smart political marketing move?
• And much more!
Michael Cyger May 14, 2015 18

In this DomainSherpa Discussion:
• A massive search volume word but in .MOBI – worth the hand registration?
• How to find the elusive registrant with either bad or fake information
• IDN.com or IDN.IDN, do they have any value today?
• Shameless.Sucks shows up at INTA with condoms and an insulting billboard
• Which new gTLDs the Sherpas WON'T be renewing in the upcoming year
• How today's new gTLD launch of .Video compares to the established ccTLD .TV
• And much more!
Michael Cyger May 7, 2015 20
In this DomainSherpa Discussion:
• Negotiating a hand-registered domain name
• What to do when a hot purchase inquiry has gone cold?
• Is there value in two-word .NET domain names with high search volume?
• Are exact match domain names out of favor and will they ever rise in value again?
• Making brandable domains out of exact match keywords
• How should new domain name investors start-out in investing today?
• NeverLikedItAnyway.com – worthy of winning Verisign's Internet Contest?
• What GoDaddy's $28.1MM purchase of Marchex's portfolio means to you as an investor
• And much more!
Michael Cyger April 23, 2015 26
In this DomainSherpa Discussion:
• GoDaddy gets scammed by a social engineer and hands over domain
• Page Howe goes to Washington to promote .LA domains for Los Angeles
• The first new gTLD renewal rates are starting to come in from Donuts
• ICANN slashes their revenue projections for this year and next year's budget
• Google Domains is ranked above all other registrars — is it anti-competitive?
• Is GoDaddy's IPO something domain investors should invest in?
• Reader question: What's the highest renewal rate the Sherpas have seen
• And much more!
Michael Cyger March 25, 2015 21

In this DomainSherpa Discussion:
• The domain industry sentiment summarized in DomainNameWire.com's annual survey
• Domain name theft is on the rise – here's what you can do to stop it today
• .Sucks releases premium pricing of up to $2,499 for trademark holders – is it extortion?
• Dissenting panelist in UDRP case is completely off-base – what to do about it?
• Reader question: How to find renewal pricing on premium gTLDs?
• And much more!
Michael Cyger March 12, 2015 34

In this DomainSherpa Discussion:
• Verisign sues .XYZ and Negari for false advertising
• Verisign also ramps up their marketing of .COM
• The .Blog auction was settled for an estimated $20 million
• .Shabaka preliminary renewals coming in a 55%
• NamesCon.Vegas ridiculously low registration cost of $199 (for 2 days)
• Reader question: are new gTLDs still worth investing in?
• And much more!
Michael Cyger February 26, 2015 29

In this DomainSherpa Discussion:
• Who won the Superbowl commercials: GoDaddy or up-start Wix?
• Rick Schwartz proves he's still Domain King with his Porno.com sale for $8,888,888
• 360.com overshadows Schwartz with it's $17 million sales price
• Credit.Club, worth $200,000, sells for $10.99 – wow!
• Fadi Chehade, CEO of ICANN, calls you a "hogger" of domains
• Verisign is giving away $100,000 CASH – we tell you how to get some
• And much more!
Michael Cyger February 5, 2015 33