Privacy Policy Cookie Policy
Domain Name Interviews
DomainSherpa interviews successful domain name investors and entrepreneurs – people we call Sherpas – who share their strategies and tactics to help you be more successful. Hosted by Tess Diaz.

Latest Interview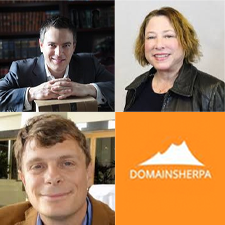 Hear perspectives from Zak Muscovitch, Karen Bernstein, Stevan Lieberman on the historic US Supreme Court decision regarding the trademark on Booking.com, plus vital thoughts on how this may impact domain valuations from Andrew Rosener.

Any domain investor, domain attorney or corporate domain manager, will benefit from today's show!
DomainSherpa July 13, 2020 7

More Interviews
Level Up: Insights into Black Experiences & Concrete Steps to Better Our World

If you can't change the world, influence your business, friendships, and understand your circle of influence and make the change there!
DomainSherpa June 29, 2020 2

SEM Expert, digital strategist, and domain name industry publisher Alvin Brown joins us to share his expertise, addressing specific domain investing strategy options, automation & efficiency, and some impressive examples of the importance of building relationships! Plus, Alvin shares two profitable flips.

Any domain investor, particularly if trying to make decisions about portfolio strategy, will benefit from today's show!
DomainSherpa June 22, 2020 3
Mike Carson, the savvy programmer and founder of Park.io, explains the launch of Gateway.io and what that means as an opportunity both for new types of domain name investing as well as decentralization of domain names and/or DNS.

Frankly, anyone who uses the internet and wants to know what the future may look like, and certainly any individual who invests in domains or corporate brand manager, will benefit from today's show!
DomainSherpa June 15, 2020 5

Domain name investor Jason Sheppard walks us through portfolio management for selling domains coming up for expiration, and the cycle Jason has found that works for him.
DomainSherpa June 8, 2020 1
Experienced domain name broker Amanda Waltz reviews the startup domain acquisition process step by step, and what a broker contributes to the process. We discuss how to create an acquisition shortlist, how and when to incorporate other entities such as legal and marketing, and how to narrow down the shortlist, make offers and get to the end goal!

Any startup planning to acquire a domain name will benefit from this show!
DomainSherpa April 28, 2020 3
Morgan Linton, a Tech Founder entrenched in the San Francisco startup community, is also a knowledgeable and successful domain name investor. Hear Morgan dispell common myths startup founders and VCs have about the value of domains. Morgan also provides useful advice for navigating the VC world, pitching, and so much more!

Any startup or VC seeking to understand domain name values will benefit from this show!
DomainSherpa April 13, 2020 5
Daniel Vassallo, who recently quit his $500k/year Software Engineering job at Amazon to found UserBase.com, has a very insightful approach to entrepreneurship, and some phenomenal advice for you. We discuss his acquisition of the domain UserBase.com and why he spent 25% of his entire startup budget on a premium.com.

He has a clear message on the power of utilizing a .COM for a B2B startup in the tech space. Also, Daniel divulges how he made $70K off an ebook he just launched a couple months ago, and how he proactively built his Twitter audience to 22,000 followers in a year.

Any entrepreneur will benefit from this show!
DomainSherpa March 30, 2020 2
Meet Jason Sheppard, the successful domain name investor who only just began seriously working in the domain space in 2017. Jason's savvy from years as a marketing consultant and his remarkable work ethic have quickly made Jason stand out on Twitter and at NamesCon.

Hear the details about 2 Profitable Flips – From $8k to $69k in Under a Year- plus his insights on domain pricing strategy!
DomainSherpa March 16, 2020 3
Jeff Gabriel, who recently co-founded brokerage firm Saw.com after departing from UniRegistry last August, discusses GoDaddy's recent acquisition of Frank Schilling's domain portfolio, UniRegistry and corporate domain management firm Brandsight. He shares his insights, thoughts on possible product changes, and what this means to the domain industry. 

The conversation focuses on the 350k+ domains coming to market, thoughts on GoDaddy's strategy with domain investors & corporate brand management, and what UniRegistry products may change.

Domain brokers, investors and corporate brand managers will benefit from today's show!
DomainSherpa February 17, 2020 2