Privacy Policy Cookie Policy
Domain Name Interviews
When you're interested in buying a domain name or domain name portfolio, start here. This category includes information on how to find, value, negotiate, close and fund a domain name purchase.

Latest Interview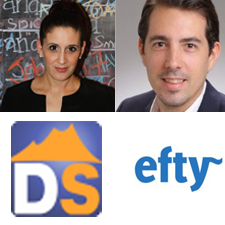 Doron Vermaat, co-founder of Efty.com, the unique commission-free domain name sales and portfolio management platform, joins us to discuss his insights into the industry.
DomainSherpa October 29, 2019 4

More Interviews

Andrew Rosener, CEO of Media Options, announces a new SEO-focused domain acquisition newsletter, in partnership with SEO expert Sean Markey!
DomainSherpa September 30, 2019 0
Braden Pollock, as a legal marketing expert and a domain investor, shares a year's worth of profitable flips without NDAs.

Since most larger domain transactions are under NDA, it's unique to receive one perspective on a  single portfolio's sales over a year.
DomainSherpa September 17, 2019 11
Strategic online marketing consultant Logan Flatt joins us to share a profitable flip with a crypto domain, CryptoCPA.com. He meticulously charts the domain history even including initial registration, expiration and complete drop back to the registry for over two years before another new registration.

Learn why he saw value, how he calculated and adjusted asking prices, and even hear how he tracks asking price and offers versus crypto value at each time.

Plus, get all the details leading up to the final sale!
DomainSherpa August 26, 2019 4
GoDaddy has amassed a significant premium domain name portfolio over the past years via several valuable portfolio acquisitions, and in their next strategic step, GoDaddy created a new position, Senior Premium Domain Name Consultant, with Jebidiah Burnett filling the consultative sales role with his tremendous expertise.

Given the rising tide of the domain industry and the tipping point we've been discussing in end user education on domain name values, this is a statement for the entire ecosystem.

With Andrew Rosener joining us, we also discuss insights on the market in general and trends & feedback these two brokers are receiving from their daily interactions with premium domain buyers.
DomainSherpa August 12, 2019 9
Tech entrepreneur & top global influencer Matt Barrie reveals how to build a moat around your business and why he believes exact match domain names are integral to strategy.

Matt calls the domain industry a phenomenal, fertile industry and reviews Escrow.com's recent report on Alternative Investing: A Comparison Between Traditional Instruments & Web Domains.

If you're developing business strategy, maximizing marketing budget, or curious about domain investment, you want to hear one of the smartest – and most engaging – successful tech entrepreneurs today!
DomainSherpa July 22, 2019 2
Tech entrepreneur and top global influencer Matt Barrie specifically discusses his acquisition of Escrow.com and his strategy in business acquisitions in general. Plus, we learn so much about what he sees in the domain industry behind the scenes at Escrow.

Matt is one of the most brilliant and voluble business minds today, so this interview is just jam packed with commentary about best approaches for entrepreneurs.

Bonus: We discuss Escrow.com's 2 recent reports. 1. Alternative Investing: A Comparison Between Traditional Instruments & Web Domains 2. Domain Investment Index, beginning with this one in Q1 2019. We get in depth with Matt reviewing factors influencing current domain name prices and so much more!

If you're involved in business acquisitions or interested in the domain industry whatsoever, you want to hear one of the smartest – and most engaging – successful tech entrepreneurs ever!
DomainSherpa July 8, 2019 7

Startup founder Fletcher Richman walks through how BubbleIQ decided to expand their product offering and make a statement via a premium domain rebrand to Halp.com.

If you're involved with a startup that is expanding its product offering or customer base, acquiring a premium domain, or working through decisions on investment capital, you will benefit from today's show!
DomainSherpa July 1, 2019 5
Two of the top global minds in domain name values handicap the upcoming Europe 2019 NamesCon Auction. Monte Cahn and Andrew Rosener review the domains and discuss what will sell, what you should keep an eye on, and some of how the auctions work behind the scenes.

Any domain name investor or company who plans to acquire a domain in 2019 will benefit from today's show.
DomainSherpa June 16, 2019 8
Hear how Matan Israeli discovered a technical niche in emoji domains, how they work, his ROI, sales strategy and more.

If you're searching to find your niche, Matan's thought process and insights will inspire you to think differently! And if you are curious about emoji domain usage, languages in technology, or investing in emoji domains, you will benefit from today's show!
DomainSherpa May 20, 2019 7