Privacy Policy Cookie Policy
Domain Name Interviews
When you're interested in buying a domain name or domain name portfolio, start here. This category includes information on how to find, value, negotiate, close and fund a domain name purchase.

Latest Interview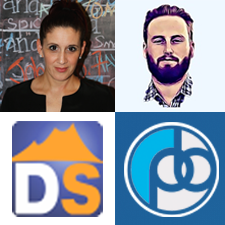 Hear how Josh Reason built his domain investment portfolio & ROI strategy over the past 5 years from newcomer to steady $15-20k/mo income. Josh includes real examples and 2 profitable flips from last month.

Hear the tools he's used, his experience both as full time and part time domain investor, and his adjustments to his strategies. Every new domain investor – and every experienced one looking out for the next up-and-comer – will want to watch today's show!
DomainSherpa May 6, 2019 4

More Interviews

Top global leaders in the domain name industry discuss domain valuation at NamesCon conference in January, 2019.

Panelists Dave Evanson of SEDO, Andrew Rosener of MediaOptions, and Joe Styler of GoDaddy, and even GoDaddy's AI, appraise domains in real time.

Any domain name investor or company who plans to sell or acquire a domain in 2019 will benefit from today's show.
DomainSherpa March 18, 2019 3
Domain name brokers Andrew Rosener and Chris Zuiker discuss a distinct tipping point in how end users understand domain values and how this is causing a shift in supply and demand, and therefore in domain values. Given their daily conversations with top global decision-makers at end user corporations and startups, they see the market is also maturing to the point of many end users understanding the value of quality domain names.

Hear how end-user perceptions of domain values are changing and the most common startup founders' regrets they hear about – including how often an end user comes back to a broker wanting to acquire a domain they previously passed on!
DomainSherpa March 4, 2019 13

On today's show we examine what I believe is a historic development for the future of the domain industry. Jeff Sass joins us from Names.Club to discuss how their new financing model is impacting both domainers who want to invest and end users who want to pay for a domain, short term or long term, in a different fashion.

Hear how this endeavor is expanding after 2 years, how you can invest smarter or buy more efficiently, and future predictions on the domain market.
DomainSherpa February 17, 2019 6
"It's not what you know, it's who you know." But here's a what you need to know: top global corporations need to know who to know! Hear how a top global corporation's relationship with a domain name broker got them the one domain that had always been out of their reach, the domain that their brand always referred to, ICE.

This multimillion dollar, three letter, one word .COM domain name went on the market for a matter of hours.

ICE, owner of the NYSE, had always dreamed of owning it. Multiple offers were already on the table. A domain broker knew who to call at ICE to ensure they acquired the domain of their dreams.

PLUS, utilizing an experienced domain name broker added value when it came to assuaging concerns with stock holders and the board!
DomainSherpa February 4, 2019 4
Two of the top global minds in domain name values handicap what is likely the best domain auction in history, the upcoming 2019 NamesCon Auction. Monte Cahn and Andrew Rosener review the domains and discuss what will sell, what you should keep an eye on, and some of how the auctions work behind the scenes.

Any domain name investor or company who plans to acquire a domain in 2019 will benefit from today's show.
DomainSherpa January 21, 2019 15
Serial entrepreneur Mark Levine shows us how he organizes his domain portfolio and tracks his domain name sales. In under a day, you can do it, too! He discusses the numbers and the tracking of his average acquisition costs, average sales prices, and more.

Average investors who are ready to start the new year with new habits will benefit from today's show.
DomainSherpa January 7, 2019 6
When entrepreneur Adrian McKeown started a new online makeup business, his prior knowledge of domain values lead him to acquire category killer ccTLD Makeup.co.nz. In just 2 1/2 years, it's grown to annual sales of 7 figures. Learn how the credibility of having the EMD category killer lead to key business opportunities. He discusses why he's not switching from the exact match domain to a more brandable domain name, which is especially unusual in the highly branded makeup market, but he shares how his understanding of this particular niche informed his domain strategy and branding strategy.

Investors and entrepreneurs who incorporate domains into brand strategy will benefit from today's show.
DomainSherpa October 15, 2018 15
Why & how to define your identity as an entrepreneur and a business before building strategy and brand identity:

Harvard Business Review states entrepreneurs & companies with strong identities outperform their competitors by 25%.

Take the time to develop identity and get the edge over your competition!
DomainSherpa September 9, 2018 1
Got strategy? Two experts walk us through their very different strategies for choosing which aftermarket domains to bid on, and how much to bid.

We check out live auctions and discuss real scenarios.

All buyers who are in need of a strategy or revamping their strategy will benefit from today's show.
DomainSherpa August 27, 2018 16