Privacy Policy Cookie Policy
Sedo Archive
Video interviews, panel discussions, articles and Q&As featuring

Sedo

.

Latest Interview
Large corporations have deep pockets and large intellectual property staffs with which to protect their interests, including trademarks. The result of such financial power can often be lobbyist-influenced legislation that does not favor domain name investing.

What you probably didn't realize is that the Internet Commerce Association is a domain name trade association that since 2006 has been representing the financial interests of domain name entrepreneurs.
Michael Cyger February 4, 2013 0

More Interviews

What are the best domain names to buy for parking, how can you maximize your return on investment when buying such names, and what is an appropriate return on investment for parking? These are but three of the questions answered in this week's show with Michael Gilmour.

An entrepreneur and investor, Gilmour started his domain name business by placing a big bet: his last $100 on a single domain name that he immediately parked. Learn how Gilmour parlayed his earnings from that single domain into a portfolio that at its peak generated thousands of dollars a day in parking revenue.
Michael Cyger January 23, 2012 37
Last week, the T.R.A.F.F.I.C. Domain Conference & Expo took place in Fort Lauderdale, Florida. Top domain investors from around the world converged at the Ritz Carlton for five days of networking, sharing, learning, partying and dealmaking.

Here are five lessons learned that you can use to grow your business that I gleaned from this conference. If you attended the conference and learned a lesson or two that is not covered here, please let us know about it in the comments.
Michael Cyger October 23, 2011 23

During his career as an entrepreneur, Troy Rushton has started and exited three companies. Today, he is working on his fourth and biggest idea: creating a domain name exchange platform, similar to stock exchange platforms like NASDAQ and NYSE.

Learn how Rushton built and sold his last three companies for millions, where he finds inspiration, and how he guides new ideas through their natural evolution to maximum profitability.
Michael Cyger September 6, 2011 15
Ryan Colby of Sedo discusses the 15 factors that he uses to assess the value of premium domain names, and what you need to know before you start working with a domain name broker to maximize the value of your premium domain names.

Why is Ryan such a good source of information? Ryan has sold over 7 million dollars in domain sales in the last 11 months, and has brokered 2 of the top 10 publicly recorded sales on Ron Jackson's DN Journal sales chart for 2011. He also currently has 64 premium domain names under contract, including 3D.com, Italy.com, Laptops.com, Margarita.com and Optometrist.com.
Michael Cyger June 29, 2011 20
It's easy to see how a domainer who early on registered short, generic domain names could be sitting on a business making millions per year. It's also easy to see how someone could make millions with domain names purchased after the dot-com crash of 2000. But how does someone build a multi-million dollar domaining business today? Justin Godfrey knows how.
Michael Cyger April 5, 2011 29

Belief in conspiracy theories requires a healthy dose of paranoia, and domain name front running (DNFR) – the idea that domain name registrars like Go Daddy or Network Solutions are monitoring your domain name availability queries and registering anything you don't immediately register yourself – sounds like a presumption of only the most suspicious and mistrustful. However, evidence suggests that DNFR does in fact occur. This article tells you how to avoid being taken advantage of.
Michael Cyger April 3, 2011 65
As a new domainer, there is an abundance of domain name industry information to soak in. Often times you may feel like you're taking a drink of water from a fire hose. However, if you follow the right path, you can enjoy long-term success. This article will help you short-circuit the domain name learning process and get up-to-speed faster.
Jason Allen Goodlin March 13, 2011 47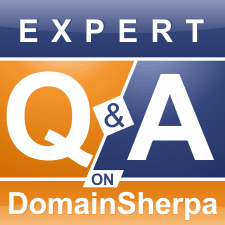 Many of us are addicted to buying domain names. Often times we hold onto them with no likelihood of development, no plans to actively market, and only a slight chance of receiving an unsolicited offer. The problem then is that our domain name portfolios (with their associated renewal fees) become too large for our budget to allow. So we turned to the experts (the folks who have wrestled with this situation multiple times) to ask what they would do.
Michael Cyger March 7, 2011 10

Most Expensive Domain Name Even Sold Sets Guinness World Record™: The most expensive internet domain name — sex.com — was sold for $13 million (£8.2 million) by Escom LLC to Clover Holdings Ltd on 17 November 2010.
DomainSherpa February 22, 2011 2