Privacy Policy Cookie Policy
Rick Schwartz Archive
Video interviews, panel discussions, articles and Q&As featuring

Rick Schwartz

.

Latest Interview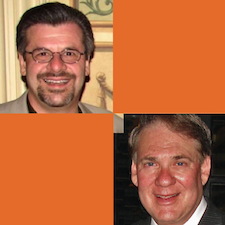 Rick Schwartz and Howard Neu, the co-founders of the T.R.A.F.F.I.C. domain name industry conference, join Michael Cyger to discuss T.R.A.F.F.I.C. West taking place May 28th through May 31st in Las Vegas, Nevada.

Questions answered include:
* What can people expect if they attend the TRAFFIC West conference this year? (e.g., educational content, speed networking, live auction, "gTLD shootout", "king com", etc.)
* What is the differentiation of TRAFFIC West from the other domain name related conferences to attendees?
* Who are the "right people" to come to the TRAFFIC event?
* Many conferences include multiple tracks to target different attendee segments. Will you be doing that too? Why or why not?
* Who are the keynote speakers and how will their message impact attendees focused on domain name investing, startups and entrepreneurship?
* TRAFFIC always throws great parties. What can attendees expect this year?
* What do you say to people who are thinking of skipping TRAFFIC West to attend TRAFFIC East?
Michael Cyger April 30, 2014 7

More Interviews
More often than not, hand registered domain name portfolios submitted to the DomainSherpa Review are not considered to be valuable by our panel of experts. Maybe there are a few domains worth keeping out of 50 submitted. Maybe.

Today, we're turning the tables on one of the regular reviewers on the DomainSherpa Review.

Past Domain Sherpa and frequent DomainSherpa Review expert Rick Schwartz opens up his list of 390 recently hand registered domain names, and shares his thought process for how and why he registered the domains.
Michael Cyger February 3, 2014 65
In this premiere DomainSherpa Portfolio Review, we get into the minds of successful domain name investors — people we call Sherpas — and review specific domain names. By listening to the Sherpas, we expand our thought process so we can become more successful investors ourselves.

We're joined by three previous Domain Sherpas: Rick Schwartz, Michael Berkens and Page Howe.
Michael Cyger August 29, 2013 55
Through leasing, Rick Schwartz is now making $3,000 per month on domains names that were previously generating only $3 to $30 per month in parking.

You can take advantage of Schwartz's 16+ years of domain name negotiations and leasing expertise by learning from or partnering with him on your category defining domain names.

Watch this interview to learn all the details.
Michael Cyger December 3, 2012 20
Last week, the T.R.A.F.F.I.C. Domain Conference & Expo took place in Fort Lauderdale, Florida. Top domain investors from around the world converged at the Ritz Carlton for five days of networking, sharing, learning, partying and dealmaking.

Here are five lessons learned that you can use to grow your business that I gleaned from this conference. If you attended the conference and learned a lesson or two that is not covered here, please let us know about it in the comments.
Michael Cyger October 23, 2011 23
According to some statistics, 40 million U.S. adults regularly visit pornography websites. Today's guest used the overwhelming interest in adult entertainment to launch his career as a domain investor.

Listen in as Rick Schwartz, the "Domain King," shares details of his domain name empire, including how he has earned more than $15 million from owning and operating Porno.com, manages a portfolio of 9,000 domains (soon to be 7,500), and sold $10 million in domain names.
Michael Cyger August 30, 2011 69

This website uses cookies to improve your experience. We'll assume you're ok with this, but you can opt-out if you wish.

Accept Read More

Privacy & Cookies Policy