Privacy Policy Cookie Policy
Premium Domain Name Archive
Video interviews, panel discussions, articles and Q&As featuring

premium domain name

.

Latest Interview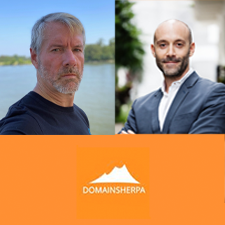 Michael Saylor, visionary CEO of Microstrategy, who sold Voice.com last year and converted $400M into Bitcoin, joins Media Options CEO Andrew Rosener to discuss domain names, domain valuation, the dematerialization of assets, and so much more!

They discuss why it's time to rediscover the criticality of owning your own domain, and why to sell, market and service your value proposition through your own domain.

This show is vital for ANY CEO, entrepreneur, bitcoin investor, or domain investor! Jam packed!
DomainSherpa September 29, 2020 23

More Interviews
Chris Snyder's career, in essence, has been creatively providing bespoke solutions for clients. Chris speaks about the evolution of opportunities he encountered with Banks.com, the network effects and marketplace models that challenged him during development, and how he is hoping to build a $50M+ company!

After Chris had negotiated a licensing agreement for Banks.com and personally invested $750,000, the rug was pulled from underneath him and he was informed the domain was for sale for $2-$5M! With his unique focus, savvy and authenticity, Chris managed to negotiate and acquire the domain, and is now reaching for the stars!
DomainSherpa September 23, 2020 0
Experienced domain name broker Amanda Waltz reviews the startup domain acquisition process step by step, and what a broker contributes to the process. We discuss how to create an acquisition shortlist, how and when to incorporate other entities such as legal and marketing, and how to narrow down the shortlist, make offers and get to the end goal!

Any startup planning to acquire a domain name will benefit from this show!
DomainSherpa April 28, 2020 3
Morgan Linton, a Tech Founder entrenched in the San Francisco startup community, is also a knowledgeable and successful domain name investor. Hear Morgan dispell common myths startup founders and VCs have about the value of domains. Morgan also provides useful advice for navigating the VC world, pitching, and so much more!

Any startup or VC seeking to understand domain name values will benefit from this show!
DomainSherpa April 13, 2020 5
Daniel Vassallo, who recently quit his $500k/year Software Engineering job at Amazon to found UserBase.com, has a very insightful approach to entrepreneurship, and some phenomenal advice for you. We discuss his acquisition of the domain UserBase.com and why he spent 25% of his entire startup budget on a premium.com.

He has a clear message on the power of utilizing a .COM for a B2B startup in the tech space. Also, Daniel divulges how he made $70K off an ebook he just launched a couple months ago, and how he proactively built his Twitter audience to 22,000 followers in a year.

Any entrepreneur will benefit from this show!
DomainSherpa March 30, 2020 2
Braden Pollock, as a legal marketing expert and a domain investor, shares a year's worth of profitable flips without NDAs.

Since most larger domain transactions are under NDA, it's unique to receive one perspective on a  single portfolio's sales over a year.
DomainSherpa September 17, 2019 11
Strategic online marketing consultant Logan Flatt joins us to share a profitable flip with a crypto domain, CryptoCPA.com. He meticulously charts the domain history even including initial registration, expiration and complete drop back to the registry for over two years before another new registration.

Learn why he saw value, how he calculated and adjusted asking prices, and even hear how he tracks asking price and offers versus crypto value at each time.

Plus, get all the details leading up to the final sale!
DomainSherpa August 26, 2019 4
GoDaddy has amassed a significant premium domain name portfolio over the past years via several valuable portfolio acquisitions, and in their next strategic step, GoDaddy created a new position, Senior Premium Domain Name Consultant, with Jebidiah Burnett filling the consultative sales role with his tremendous expertise.

Given the rising tide of the domain industry and the tipping point we've been discussing in end user education on domain name values, this is a statement for the entire ecosystem.

With Andrew Rosener joining us, we also discuss insights on the market in general and trends & feedback these two brokers are receiving from their daily interactions with premium domain buyers.
DomainSherpa August 12, 2019 9
The CEO of a global organization discusses why they acquired a 2 letter .COM, ran it as a parallel brand, and are now rebranding to PX.com. Frans van Hulle calls the 2 letter the holy grail that stands on its own TWO feet. (haha)

We discuss the advantage he's seen with a 2 letter .COM and the tangible impact in enterprise value that a 2 letter .COM brings to an organization like theirs.
DomainSherpa October 1, 2018 6
Ali Zandi closed the second highest domain name sale of 2017 to date.

If you want to know what goes into a $2 million blockbuster sale and hear all the details directly from the domain name broker that made it happen – this is the show you need to watch.
Michael Cyger May 15, 2017 71