Video interviews, panel discussions, articles and Q&As featuring
Latest Interview
Jason Davis' wife called him crazy when he bought Recruiting.com for $75,000 in 2002. But four years later Davis sold it to Jobster for a six-figure price. He realizes that his end users – the people who buy his job- and recruiting-related domain names – don't wake up in the morning thinking about spending five figures on a domain name that day. He knows he must give them a reason to do so – and he does that by framing the price of the domain in terms the buyer best relates to.
In this show, Davis describes how concentrating his efforts on a single domain name niche helps him make stronger industry connections, earn more in sales and find more entrepreneurial opportunities in his area of expertise.
Michael Cyger September 20, 2011 22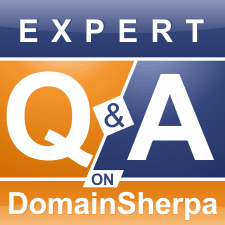 Many of us are addicted to buying domain names. Often times we hold onto them with no likelihood of development, no plans to actively market, and only a slight chance of receiving an unsolicited offer. The problem then is that our domain name portfolios (with their associated renewal fees) become too large for our budget to allow. So we turned to the experts (the folks who have wrestled with this situation multiple times) to ask what they would do.
Michael Cyger March 7, 2011 10