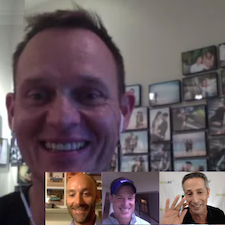 Numerics and acronyms are hot and seemingly increase in price by the week (and sometimes day).
Three, four and five number numerics (like 98569.com recently sold for $5,079) have increased in price so quickly that now eight numbers (like 33772211.com recently sold for $380) are now being registered. Even five letters are selling for hundreds (like hyhhh.com recently sold for $686).
In this DomainSherpa Discussion:
Are we experiencing too much growth in too fast a time period?
Is this type of growth sustainable?
Is this a domain name bubble that's going to pop?
Should you stay clear of this investment?
And much more!
We discuss these questions and more with Sherpas Andrew Rosener, Frank Schilling and Shane Cultra.
Discussion (22:48): Watch | Listen/Download Audio | Sponsors
Your DomainSherpa Discussion
Playback Speed:
This interview is promoted through a media partnership with
DAN.com
.

Your DomainSherpa Discussion, Audio Only
Note: Adobe Flash Player (version 9 or above) is required to play this audio clip. You also need to have JavaScript enabled in your browser. Or, listen on iTunes or in your favorite podcast app (here are the feeds).
This Show's Sherpas
DomainSherpa Advertisers
Please visit the advertisers that support DomainSherpa and make our shows possible.
If you enjoyed this article, subscribe for updates (it's free)