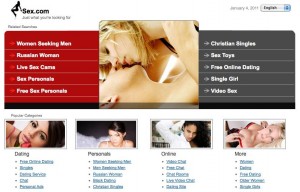 TechCrunch reporter Robin Wauters just landed an exclusive interview with the new owner of Sex.com. The owner paid $13 million for the domain name in October, 2010, when the former owner, Escom LLC, declared bankruptcy.
Some interesting findings from the TechCrunch article and from DomainSherpa research:
The owner (previously identified in bankruptcy documentation as Clover Holdings Ltd – a little known Caribbean company) remains anonymous and had no concrete plans before buying the domain name, however, has been identified as a domainer with previous experience in monetizing generic domain names
The current website remains a parked page with advertising, drawing 125,000 visitors on a daily basis mainly from the United States, India and Germany
These 125,000 daily visitors are "on track to return well into seven figures a year," which translates into about 2 cents a visitor (assuming $1 million in advertising revenue per year)
The owner has received multiple business development inquiries but has not made any decisions yet on how to use the domain name
The owner is hesitant to jump into the porn industry as it would limit options, and is instead looking to potentially start a more mainstream business venture
The $13 million price tag for sex.com is among the highest prices ever paid for a domain name. Sex.com still holds the top price tag from when Escom LLC bought sex.com in 2006 for a reported $14 million (domain name only, no associated website or business).
What would you do with the domain name sex.com? Tell us in the comments of this article.
If you enjoyed this article, subscribe for updates (it's free)