Video interviews, panel discussions, articles and Q&As featuring
Latest Review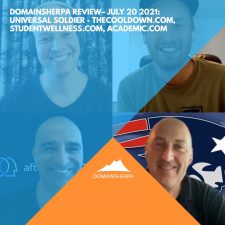 What do successful domain name investors think when they value domain names?
In this show:
• We learn what the Sherpas bought or sold recently and keep score to see which Sherpas do the best at guessing the values: TheCooldown.com, StudentWellness.com & Academic.com;
• We review a list of domains about to come up for auction on NameJet.com, including Appreciate.org, JustLikeThat.com, & FunkySocks.com; We discuss the recent sale of Universal.com with Andrew Miller who brokered the sale, while JT is live on-location at Universal Studios Orlando;
• Plus, much more!
JT is joined by Josh Reason, Ammar Kubba & Andrew Miller- so be sure to tune in!
DomainSherpa July 21, 2021 0