Video interviews, panel discussions, articles and Q&As featuring
Latest Interview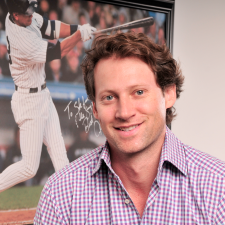 In 2006, Jesse Stein purchased SportsMemorabilia.com for $12,500 when it wasn't much more than a domain name.

Fast forward several years, and the company now leads the market in high-end autographed sports merchandise and memorabilia, making $19.5 million in revenue in 2012. We start at the beginning to learn about SportsMemorabilia.com's journey and how they plan to be a $100+ million company.
Michael Cyger February 25, 2013 22
Bill Karamouzis has already hit three home runs in his domaining career. He sold his first two companies in 2005, each for well over seven figures. When it came time to launch his third company, Hallpass Media, he took the lessons he had learned from his past ventures and came up with a simple formula for success, which led to his third sale in 2011.
In this interview, conducted live at the TRAFFIC conference in Fort Lauderdale Beach, Florida, in October 2011, Bill Karamouzis recalls the strategy and tactics that led him to his latest successful business exit.
Michael Cyger January 30, 2012 16

What are the best domain names to buy for parking, how can you maximize your return on investment when buying such names, and what is an appropriate return on investment for parking? These are but three of the questions answered in this week's show with Michael Gilmour.
An entrepreneur and investor, Gilmour started his domain name business by placing a big bet: his last $100 on a single domain name that he immediately parked. Learn how Gilmour parlayed his earnings from that single domain into a portfolio that at its peak generated thousands of dollars a day in parking revenue.
Michael Cyger January 23, 2012 37

The cost to advertise and market a domain name or website far outweighs the cost to acquire a domain name or website that already has traffic. As a result, high-traffic websites command top dollar in the domain after-market. End-users would rather acquire a traffic websites than to build a new domain. But the problem is, how can you verify the monthly unique traffic a domain name or website has before you buy it?
Jason Allen Goodlin February 27, 2011 17