Video interviews, panel discussions, articles and Q&As featuring
Latest Interview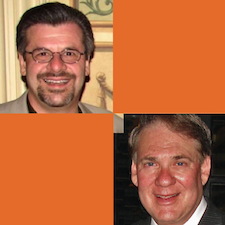 Rick Schwartz and Howard Neu, the co-founders of the T.R.A.F.F.I.C. domain name industry conference, join Michael Cyger to discuss T.R.A.F.F.I.C. West taking place May 28th through May 31st in Las Vegas, Nevada.
Questions answered include:
* What can people expect if they attend the TRAFFIC West conference this year? (e.g., educational content, speed networking, live auction, "gTLD shootout", "king com", etc.)
* What is the differentiation of TRAFFIC West from the other domain name related conferences to attendees?
* Who are the "right people" to come to the TRAFFIC event?
* Many conferences include multiple tracks to target different attendee segments. Will you be doing that too? Why or why not?
* Who are the keynote speakers and how will their message impact attendees focused on domain name investing, startups and entrepreneurship?
* TRAFFIC always throws great parties. What can attendees expect this year?
* What do you say to people who are thinking of skipping TRAFFIC West to attend TRAFFIC East?
Michael Cyger April 30, 2014 7