Video interviews, panel discussions, articles and Q&As featuring
Latest Discussion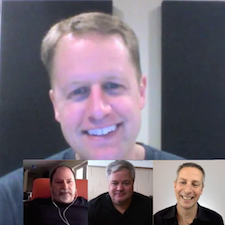 In this DomainSherpa Discussion:
• A massive search volume word but in .MOBI – worth the hand registration?
• How to find the elusive registrant with either bad or fake information
• IDN.com or IDN.IDN, do they have any value today?
• Shameless.Sucks shows up at INTA with condoms and an insulting billboard
• Which new gTLDs the Sherpas WON'T be renewing in the upcoming year
• How today's new gTLD launch of .Video compares to the established ccTLD .TV
• And much more!
Michael Cyger May 7, 2015 20

In this DomainSherpa Discussion:
• Are .COM values increasing or decreasing as a result of the new gTLDs?
• Should you be doing outbound sales calls by telephone on inbound inquiries by email?
• Not all .COMs are taken and Verisign proves it
• ICANN Passes the buck to the FTC
• Judy Berkens makes a special guest appearance and shares the secrets to 29 years of marriage
• And much more!
Michael Cyger April 16, 2015 39

In this DomainSherpa Discussion:
• The domain industry sentiment summarized in DomainNameWire.com's annual survey
• Domain name theft is on the rise – here's what you can do to stop it today
• .Sucks releases premium pricing of up to $2,499 for trademark holders – is it extortion?
• Dissenting panelist in UDRP case is completely off-base – what to do about it?
• Reader question: How to find renewal pricing on premium gTLDs?
• And much more!
Michael Cyger March 12, 2015 34