Video interviews, panel discussions, articles and Q&As featuring
Latest Review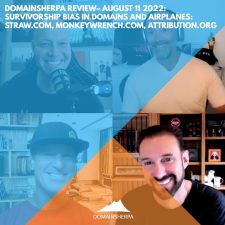 What do successful domain name investors think when they value domain names?
In this show:
• The Sherpas play The Domain Game, where they guess what certain domains were bought and sold for and discuss the reasons behind their evaluations. Today's domains are Straw.com, MonkeyWrench.com, and Attribution.org;
• They review a list of domains about to come up for auction on NameJet.com, including StretchWrap.com, VetSmart.com, WaterTreatment.net, and Propane.org;
• all DomainSherpa podcasts are now up on our YouTube channel at www.DS.tv;
• Plus we have a NamesCon promo code for 20% off when registering your tickets (MP_domainsherpa), and much more!
JT is joined by Drew, Shane, & Braden so be sure to tune in!!
DomainSherpa August 11, 2022 1