Video interviews, panel discussions, articles and Q&As featuring
Latest Interview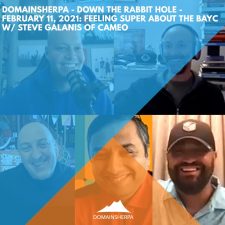 As we say on DomainSherpa – all roads lead to domains. And in the reverse, domains lead us "down the rabbit hole" for different topics all the time. This show is where we discuss a wide variety of subjects – with plenty of talk about domains, crypto, NFTs, and digital assets – along with a bunch of other stuff as well.
In this "super" special episode, JT is joined by Drew, Andrew Miller, Hiren Patel, and Steve Galanis of Cameo as they dive down the rabbit hole of NFTs and discuss (i) the rumors of the Bored Ape Yacht Club Super Bowl involvement, (ii) rarity and aesthetics in valuing a Bored Ape, (iii) the value of Yuga Labs as a business, (iv) the upcoming Cameo Pass NFT project, and (v) a whole lot more!
So tune in and jump down the rabbit hole with the Rabbit Hole Gang!
DomainSherpa February 11, 2022 1