Video interviews, panel discussions, articles and Q&As featuring
Latest Review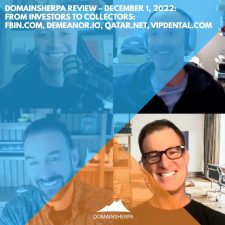 What do successful domain name investors think when they value domain names?
In this show:
• The Sherpas play The Domain Game, where they guess what certain domains were bought and sold for and discuss the reasons behind their evaluations. Today's domains are FBIN.com, Demeanor.io, Qatar.net, & VIPDental.com;
• They review a list of domains about to come up for auction on NameJet.com, including SafetyWear.com, LandscapeDesign.com, & Wizard.org;
• The Sherpas discuss Shane's recent retirement from the family plant business;
• They talk about the downturn of the economy, the impact it has on the Sherpas' domain sales, and more about the FTX fallout situation;
• Also, the Sherpas chat a little bit about the newly announced NamesCon Global 2023 conference which will be back in Austin, Texas;
• Plus, all DomainSherpa podcasts are now up on our YouTube channel at DS.tv and much more!
JT is joined by Drew, Braden, & Shane so be sure to tune in!
DomainSherpa December 1, 2022 1