Video interviews, panel discussions, articles and Q&As featuring
Latest Interview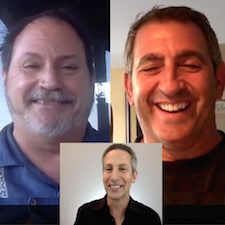 In his first interview since selling his portfolio, Michael Berkens answered some questions about the the WorldWide Media domain name portfolio mega-sale to GoDaddy. I asked him how much he sold his portfolio for, what he bought as a result of the sale, and what's next for him.
Also, Berkens and Monte Cahn discuss the $24 million dollars worth of domain names that are going up for auction at the NamesCon conference in January 2016. Want some insider information on which domains will have no reserve, be the best value, or will have the highest resale potential? This is the show to watch!
Michael Cyger December 21, 2015 19
Whether you're attending the NamesCon domain name auction in person, watching via the live web feed, or bidding by telephone, this show will walk you through domain names that you might have missed – presenting opportunities for either undervalued or no-reserve purchases.
This show also contains tactics for understanding and successfully navigating most live domain name auctions that may occur at a future date, so don't disregard watching this interview just because you missed the auction on Tuesday, January 13, 2015.
Michael Cyger January 8, 2015 4

Uncertainty associated with the process of applying for new gTLDs is frustrating, even more so when multiple applicants are vying for the same gTLD, and unfortunately that ambiguity continues to be commonplace.
But Monte Cahn and partner Michael Berkens have devised ways to reduce the uncertainty in the new gTLD application process for the 145 applicants who have 755 competing applications.
In addition, watch this interview to learn about the process and how you – as a domain name investor or online entrepreneur – can be ready to take advantage of the new gTLDs before they become available to the public.
Michael Cyger December 10, 2012 4
Most people thinking about the possibility of launching a new gTLD, such as .casino or .nyc, do not have the luxury of getting free advice from an industry expert. Until today.
Listen in as domain name expert Michael Berkens, co-founder and managing director of Right of the Dot, answers questions about the opportunities, costs and legal aspects of the new gTLDs being launched by ICANN.
Michael Cyger August 16, 2011 9