Video interviews, panel discussions, articles and Q&As featuring
Latest Interview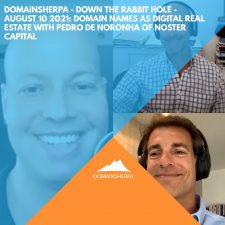 As we say on DomainSherpa – all roads lead to domains. And in the reverse, domains lead us "down the rabbit hole" for different topics all the time. This show, typically hosted by JT, Drew & Yoni, is where we discuss a wide variety of subjects – with plenty of talk about domains, crypto, NFTs, and digital assets – along with a bunch of other stuff as well.
In this episode, JT & Drew are joined by Pedro de Noronha of Noster Capital as they discuss the investability of domain names from the perspective of an institutional investor. Pedro brings a handful of questions to pressure test our thesis of domains as digital real estate, what are some advantages and disadvantages to domains as an investment, what else is needed to make domains appealing to institutions and funds, and more. If you're a domain investor, big or small, you should be sure not to miss this insightful episode!
So tune in and jump down the rabbit hole with us!
DomainSherpa August 12, 2021 1