Video interviews, panel discussions, articles and Q&As featuring
Latest Interview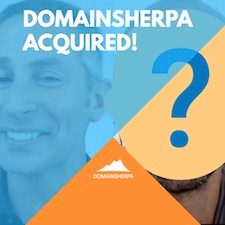 Remember when I told you that after 404 shows, DomainSherpa bid farewell? Well, we have some exciting news to share with you on today's show!
Michael Cyger October 30, 2017 62
Are the emails you send to potential buyers even being opened?
And if your emails are being read, when and how often should you follow up to increase your chances of closing a sale? >> I tell you in this tutorial. <<
Michael Cyger November 7, 2016 28
This week includes a double dose of DomainSherpa!
In this excerpt of DNAcademy office hours, Michael Cyger walks students through two questions:
1. Does domain name parking still work today?
2. What types of domain names produce revenue with domain name parking?
Michael Cyger September 8, 2016 35
Sales happen when you work backwards from YES.
Look for where the sales are, and turn yourself into a reverse engineer.
Michael Cyger September 5, 2016 11
Google Apps for Business costs $60 per year for email hosting. I found an email hosting option for your domain name that only costs $0.06 per year.
In this tutorial, I'm going to show you exactly how to set it up and use it.
Michael Cyger August 15, 2016 13
On Saturday I presented at the Domain Startup Summit Pitchfest competition.
I'd appreciate your input on my business idea, Resolution Club, an application that uses your social media network to help you build a healthy habit, break an unhealthy one, or do something to make the world a better place.
Michael Cyger August 1, 2016 16
Excuses take away your choices, they take away your control…they are holding you back.
You can be better.
Today's the day to get off your but.
Michael Cyger July 4, 2016 29

Check out. Benchmark. Spy.
Call it what you want, but if you want to do that this is the video to watch.
This video walks you through exactly how to spy on your competitors using free online tools. Find out what technology powers DomainNameWire.com, DNForum.com and DomainSherpa.com, as well as a few others. See their back links, and traffic estimates too.
Michael Cyger August 6, 2012 10

Setting up WordPress Multisite will allow you to test many websites at once, and add more websites as your needs grow. And you can do it for under $25 a year for hosting, with as many domain names as you like.
This video walks you through exactly what you need to do to sign up for a hosting account, set up WordPress, activate multisite, and a different domain name per website.
Michael Cyger July 23, 2012 64