Video interviews, panel discussions, articles and Q&As featuring
Latest Review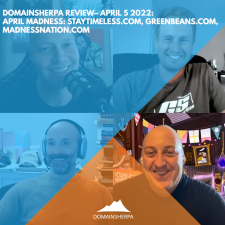 What do successful domain name investors think when they value domain names?
In this show:
• The Sherpas play The Domain Game, where they guess what certain domains were bought and sold for and discuss the reasons behind their evaluations. Today's domains are StayTimeless.com, GreenBeans.com, & MadnessNation.com;
• They review a list of domains about to come up for auction on NameJet.com, including MedCare.com, PoolGuy.com, and VegasTrip.com;
• They also talk about Affiliate.com, which was a sale Andrew Miller was recently involved with; and
• The Sherpas also discuss the sale of LA.com, which was brokered by MediaOptions.
• Plus, much more!
JT is joined by Drew, Josh, & Andrew Miller – so be sure to tune in!
DomainSherpa April 6, 2022 3
DomainSherpa SportsPodcast is a new show on the DomainSherpa network branched off of our Down The Rabbit Hole series, where we dive into a variety of different topics – in this case, sports and the intersection of sports and digital assets.
In this special episode, JT is joined by Villanova legend Kris Jenkins as they discuss his iconic shot to win the 2016 NCAA Men's Basketball Championship! JT and Kris talk about "the shot", Kris' future plans, Villanova basketball, NFT's, digital sports collectables, and a whole lot more – so be sure to tune in!!
DomainSherpa July 8, 2021 0