Video interviews, panel discussions, articles and Q&As featuring
Latest Interview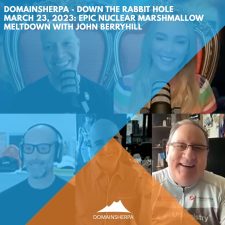 As we say on DomainSherpa – all roads lead to domains. And in the reverse, domains has us venturing "down the rabbit hole" into different topics all the time. This is a tech-adjacent, digital asset, pop-culture, tangent-positive monthly podcast – with some domains stuff thrown into the mix for good measure.
In this episode, co-hosts JT & Jen Sale are joined by leading domain attorney John Berryhill along with Drew & Ammar to talk about some additional legal issues related to domains with a lot of discussion about Whois privacy, parking domains, stolen domains, some issues at Epik.com, and a whole lot more!
So, tune in and jump down the rabbit hole with the Rabbit Hole Gang!
DomainSherpa March 23, 2023 2