Video interviews, panel discussions, articles and Q&As featuring
Latest Review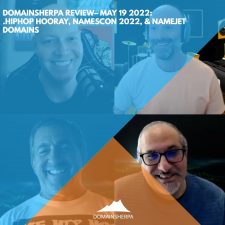 What do successful domain name investors think when they value domain names?
In this show:
• The Sherpas have special guests Monte Cahn & Jeff Neuman on today's show;
• They discuss the relaunch of .hiphop and all the cool stuff happening there;
• They review a list of domains about to come up for auction on NameJet.com, including Asylum.org, SwimSuits.net, and Tournaments.com; and
• The Sherpas also discuss the upcoming NamesCon 2022 conference, the first live NamesCon in two years, featuring the RightOfTheDot auction.
• Plus, much more!
JT is joined by Drew, plus Monte Cahn & Jeff Neuman – so be sure to tune in!
DomainSherpa May 19, 2022 2