Video interviews, panel discussions, articles and Q&As featuring
Latest Review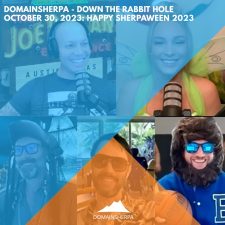 As we say on DomainSherpa – all roads lead to domains. And in the reverse, domains have us venturing "down the rabbit hole" for different topics all the time. This is a tech-adjacent, digital asset & pop culture, tangent-positive, monthly-ish podcast – with a bunch of domains stuff thrown into the mix for good measure.
In this episode, co-hosts JT & Jen Sale are joined by Drew, Adam, and Billy for the annual Sherpaween holiday episode. The gang dives into some domain current events like recent auction platform changes at NameCheap and GoDaddy, and the slow-down of the Chinese domain market in Q3. They also discuss which holiday domain name has the most value and they get into an interesting conversation about the Mandela Effect.
So tune in and jump down the rabbit hole on DomainSherpa! And Happy Sherpaween!
DomainSherpa October 30, 2023 0