Video interviews, panel discussions, articles and Q&As featuring
Latest Interview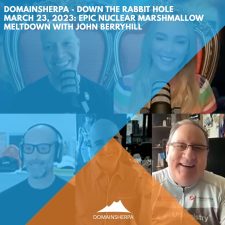 As we say on DomainSherpa – all roads lead to domains. And in the reverse, domains has us venturing "down the rabbit hole" into different topics all the time. This is a tech-adjacent, digital asset, pop-culture, tangent-positive monthly podcast – with some domains stuff thrown into the mix for good measure.
In this episode, co-hosts JT & Jen Sale are joined by leading domain attorney John Berryhill along with Drew & Ammar to talk about some additional legal issues related to domains with a lot of discussion about Whois privacy, parking domains, stolen domains, some issues at Epik.com, and a whole lot more!
So, tune in and jump down the rabbit hole with the Rabbit Hole Gang!
DomainSherpa March 23, 2023 2
As a degreed and lifelong student of economics, Rob Monster understands better than most the science of how wealth is produced, consumed and transferred. And he is making good use of that knowledge.
Monster draws from his experiences – both the victories and the disappointments – as he works to define a scalable domain development theory that will lead to consistent profits with domain names.
Michael Cyger October 4, 2011 21