Video interviews, panel discussions, articles and Q&As featuring
Latest Interview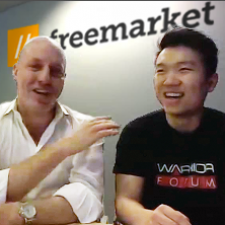 Last week Freelancer.com launched Freemarket.com, a domain name and website marketplace spun off from their $3.2 million acquisition of WarriorForum.com.
While some may think Freemarket.com is "just another" marketplace, what it offers is the community of 13 million potential buyers and sellers across all Freelancer.com properties.
I invited CEO Matt Barrie and Product Manager Jimmy Young here to share some information about the newly launched Freemarket.com marketplace and how investors can be make use of parent-website Freelancer.com to develop their prized domain name assets.
Michael Cyger September 8, 2014 22