Video interviews, panel discussions, articles and Q&As featuring
Latest Interview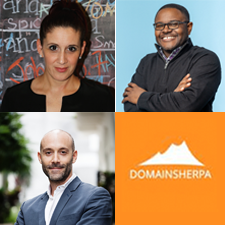 SEM Expert, digital strategist, and domain name industry publisher Alvin Brown joins us to share his expertise, addressing specific domain investing strategy options, automation & efficiency, and some impressive examples of the importance of building relationships! Plus, Alvin shares two profitable flips.
Any domain investor, particularly if trying to make decisions about portfolio strategy, will benefit from today's show!
DomainSherpa June 22, 2020 3

DNSeattle.com, a networking and educational event that takes place in Seattle annually, answered this question on May 28, 2015:
What is the investment market for new gTLDs, and how can individual or institutional investors take advantage of it?
The Sherpa panel included: Dan Schindler, Rob Monster and Jebidiah Burnett.
Michael Cyger June 1, 2015 34

New top-level domains are launching every week for the next couple of years.
Can you figure out the next most valuable domain name that hasn't been reserved by the registry and register it before other investors or end users?
This tutorial walks you through one process for finding valuable domain names for registration using keyword search volume and advertiser competition.
Michael Cyger April 14, 2014 25

The new top level domains that will launch beginning in 2013 create a unique investment opportunity. Indeed, private equity and venture capital firms are evaluating investment in new top level domains and domain name registrars.
Today's interview is with one of the consultants helping investors outside the domain name industry understand this opportunity. Watch this interview to learn from a different perspective.
Michael Cyger March 4, 2013 4