Video interviews, panel discussions, articles and Q&As featuring
Latest Interview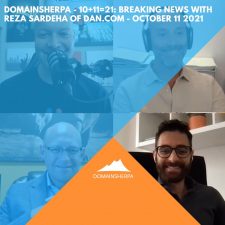 JT, Drew, and Chris Zuiker are joined by Reza Sardeha of DAN.com to provide an exciting update on the MediaOptions & DAN.com partnership and to announce a new deal between DAN.com & DomainSherpa! Some key moments from the show include an update on the official launch of MediaOptions domain brokerage services on DAN.com, some insight into the features of the DAN.com platform and details about the MediaOptions integration, a discussion about strategies and philosophies around successful domain sales and brokering, and more! Be sure to tune in!
DomainSherpa October 11, 2021 4
JT & Josh are joined by Monte Cahn and Scott Pruitt to talk about the upcoming RightOfTheDot auction taking place on September 23, 2021 at NamesCon Online Fall 2021. Some key moments from the show include breaking down how the upcoming RightOfTheDot auction will work and a discussion about some of the domains listed in the auction!
Be sure to tune in!
DomainSherpa September 20, 2021 0