Video interviews, panel discussions, articles and Q&As featuring
Latest Interview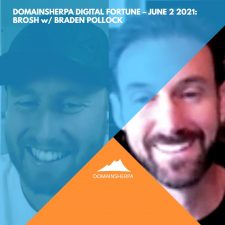 Josh Reason is a successful domain investor and entrepreneur with a fantastic podcast on domain names and digital entrepreneurship – Digital Fortune – on the DomainSherpa Network! Josh is joined on this episode by domain investor and serial entrepreneur Braden Pollock and they discuss a bunch of things related to domain investing and digital assets. Among other topics, Braden and Josh discuss the appreciation of premium domain names and how crypto could help push .IO's forward!
Be sure to tune in!
DomainSherpa June 2, 2021 0

In this DomainSherpa Discussion:
• Are .COM values increasing or decreasing as a result of the new gTLDs?
• Should you be doing outbound sales calls by telephone on inbound inquiries by email?
• Not all .COMs are taken and Verisign proves it
• ICANN Passes the buck to the FTC
• Judy Berkens makes a special guest appearance and shares the secrets to 29 years of marriage
• And much more!
Michael Cyger April 16, 2015 39

Bryan Marble is the founder of GroupTrip, a social web service that helps plan travel logistics with friends. His tech startup doesn't have a lot of money to spend on branding, a domain name or marketing — they're still in beta testing. But on the encouragement of a well-known talk-Internet host, he evaluated the use of a new top level domain for his website: .CO. This is the story of how split testing (also known as A/B testing) and data helped Mr. Marble decide whether to select the best .COM domain name he could afford or a better name but with a .CO extension.
Michael Cyger January 19, 2011 7