Video interviews, panel discussions, articles and Q&As featuring
Latest Interview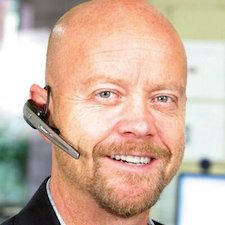 Mike Faith founded a headset company and experienced explosive growth, selling $3 million in the first three years. Then he hit a bump in the road. To get the company back on a path of consistent growth, he raised money and acquired Headsets.com.
Learn how he creatively financed the domain name, what benefits it provided to his business, and how he made a generic word memorable.
Michael Cyger January 5, 2015 22
Most small and medium businesses would be thrilled to be listed even once in the top 10 organic search results on Google for a keyword phrase that describes their business. But what if you could rank in six of the top 10 positions?
Christian Walter, the chief technology officer of NowYo.com, has helped a small landscape design firm in Cincinnati do just that. The firm ranks in positions 1, 2, 5, 7, 8 and 10 of the top 10 positions for "Cincinnati hardscaping structures," as well as many other search phrases. In today's show, Walter shares the secret to achieving these results.
Michael Cyger August 9, 2011 24