Video interviews, panel discussions, articles and Q&As featuring
Latest Interview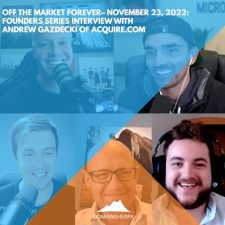 As we say on DomainSherpa – all roads lead to domains. And this is a new show related to domains called "Off The Market Forever", starring Chris Zuiker and James Iles! In this show we focus on the domain space from the lens of end-user acquisitions and upgrades, from the perspective of one the best domain brokers in world and one of top journalists in the space – both who have unique insight and knowledge of the industry and domains as they relate to end-users.
In this episode, the Sherpas interview Andrew Gazdecki of MicroAcquire to discuss his journey creating his startup and what led to the upgrade and acquisition of the Acquire.com ultra-premium domain name. Andrew gives great insight into what led to the decision to acquire the domain, how he obtained the domain through a broker, and how much he paid for it. His story is another testament as to why it's important for a company to lock up its exact-match domain name before it is "Off The Market Forever"! The Sherpas are also joined for the first time by MediaOptions broker, Matthew Zuiker.
So be sure to tune in!
And be sure to check out the MicroAcquire's "sister site" referenced in this episode – Bootstrappers.com – which is full of practical advice from bootstrapped founders to help you build, scale, and grow a business!
DomainSherpa November 23, 2022 0