Not every domain name owner is a domainer – an individual who buys, sell, and monetizes domain names for profit. Many businesses have purchased domain names as part of their past marketing activities and many are not being used. This could be an opportunity waiting for you.
The two main obstacles a domainer will experience when contacting a non-domainer are:
Determining whether the domain name owner is interested in selling the domain name, and
What price it will cost to secure the domain name.
You may think a non-domainer has little knowledge about a domain's value – think again. Don't let the non-domainer label fool you. Ignorance may cause a non-domainer may ask an absurd amount for a domain name. You must be prepared to withstand a non-domainer challenge.
This article and sample letter will show how to contact a non-domainer to purchase a domain name. For the purpose of this article, we'll use the example domain name speechless.com, which — on the date of this article publication — is a domain name that is active with a website holding page but unused and without advertising or parking.
(Note: This article is for educational purposes only. No letter was sent to the domain name owner, and the owner has not been contacted in any way before article publication.)
A check on DomainTools.com reveals that the registrant owns about 65 other domain names, which indicates they are most likely not a domainer.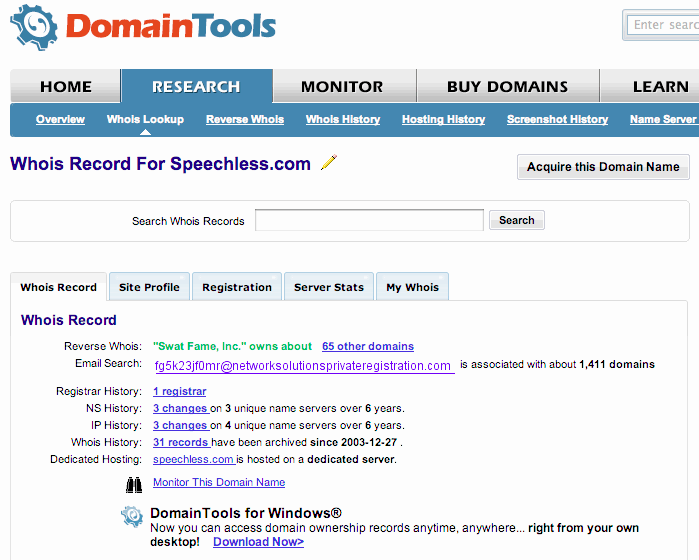 The domain name was first registered on 25-Mar-1997, and is due to expire (if not renewed) on 26-Mar-2012. At the time of article publication, the domain name owner has only registered the domain through the next year which may be an indication of their willingness to sell it.
---
Step 1: Determine The Price You Are Willing to Pay for the Domain Name
---
Determining the price you are willing to pay is based on many factors that are out of the scope of this article. For the purpose of this article, we will only use an estibot.com valuation.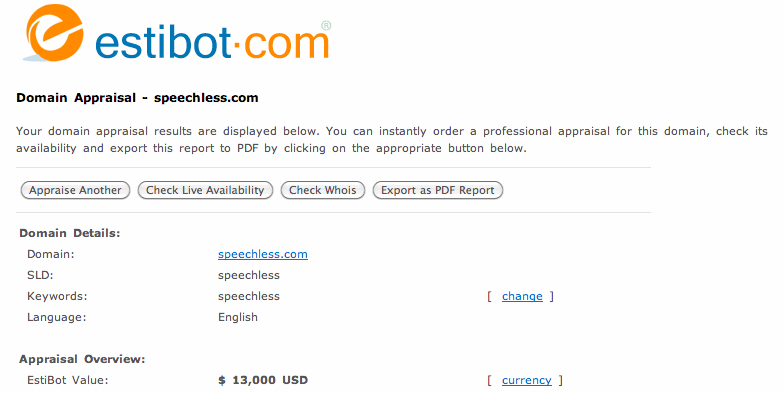 In this example, the EstiBot value is $13,000 USD, so we will set our offer price at one quarter of that value, or $3,250.
---
Step 2: Check the Whois Ownership Contact Information
---
Clicking on the estibot.com "Check Whois" button will reveal the registrant information for the domain name. In this case, the contact information of the registrant is protected by Network Solutions Private Registration service as the email address listed is [email protected].
Instead of sending an email to this address — which may or may not be redirected to the domain name registrant — we will search for an alternate email address for the domain name owner.
Searching the company name, Swat Fame, Inc., on Google reveals their main company domain name: swatfame.com. A couple more clicks, and we can easily find their contact page with the following email address: [email protected].
We will use the email address associated with the domain name to contact the domain name owner. Now we are ready to contact the non-domainer to purchase the domain name.
---
Step 3: Email The Domain Name Owner
---
Dear [Name] [(or) To Whom it May Concern],

My name is [Your Name]. I located your contact information in a domain name whois lookup and understand that you own the domain name Speechless.com. I understand that you have owned the domain name for the past 14 years. I am interested in buying the domain name from you.

I would like to briefly share my background. As a former film student at the University of California, Santa Barbara, I never explored the value of the Internet. Last year, I discovered the domain industry. I purchased a few domain names, and then began researching the domain industry even further. While I'm no domain expert, I realized that it's time to secure a domain name to take the next step -– to accomplishing my screenwriting goals — and I think Speechless.com would be useful.

In the domain name industry, there are many appraisal tools that people use to estimate the value of a domain name. However, these domain valuation tools are only to provide a domain owner and or a website owner with a ballpark figure. On one domain valuation website, a domain may be worth $90, but on another the domain appraises for $2,500.

In order to demonstrate my interest in Speechless.com, I want to make you a serious offer. If you're willing to sell Speechless.com, I can offer you $3,250 for the domain name. I believe the price is fair because I respect that you retained the domain name for the past 14 years. We both know the domain deserves more than a small offer.

In my current situation, I'm looking to establish a blog to write about screenwriting. I conducted research on many different screenwriting domain name variations, discovering that Screenwriting.com, Screenwriter.com, Screenwriters.com, and Scriptwriters.com are all active websites.

I decided to contact you regarding Speechless.com because your domain is not an active website or a parked domain. Your domain name is currently registered at Network Solutions. I have a Network Solutions account also. If you accept my offer to purchase your Speechless.com domain name, we can complete the transaction quickly.

Since the price of the domain name is more than I usually spend, I would like to use Escrow.com to complete the transaction. I want to ensure the safe delivery of the funds to you. Furthermore, since this is our first time conducting any business, I believe that using a third-party escrow service can provide a safe, well defined process. I can pay 100% the cost of the escrow service.

I really hope we can work out a deal on Speechless.com. Please feel free to contact through email or by telephone. My cell phone number is [Phone Number]. I'm looking forward to your reply.

Best regards,
[Your Name]
[Contact Information]
---
Domain Name Offer Letter Analysis
---
When you contact a non-domainer, you want to be as respectful as possible. You have no idea whether the domain name owner wants to sell the domain or if they want four or six figures for the domain name.
Before making an offer, you should decide the highest amount you would be willing to pay for the domain name. Whereas the domain name owner is most likely not be an active domainer, the $3,250 offer is respectable enough to consider.
In the second paragraph, presenting your background shows that you respect the domain owner enough to share your personal information. It also is a step toward allowing the domain name owner to get to know you, and a step in building a relationship.
No appraisal value is mentioned. The domain's performance statistics, links, search quantities, and CPC information that domainers are well-versed in are left out. If you provide too much information, such as statistics and domain appraisals, the domain owner may become overwhelmed and it may complicate the deal.
The transaction will be handled by Escrow.com, which lends credibility to the offer and will provide confidence to the domain name owner. The owner will likely visit the Escrow.com website to familiarize themselves with the services.
---
Conclusion
---
To be successful in business, you need to build relationships. Demonstrating respect, providing enough information — but not too much — and informing the non-domainer you're interested in purchasing their domain will improve your chances of closing a deal.
This article is merely an example of how to contact a non-domainer to purchase a registered domain name. If you feel confident about the domain name owner and the deal, you can use PayPal to transfer funds and a push service at the registrar to transfer the domain name. You should customize the letter to fit your needs and business relationship with the domain name owner.
[Photo credit: Fletcher Prince]
If you enjoyed this article, subscribe for updates (it's free)