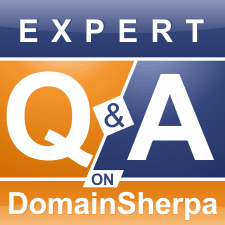 The Q&A series is where we ask domain name experts, influencers and friends of DomainSherpa for their opinions. This week we are looking at domaining tools to help you be more productive.
There are a plethora of domain name tools and services available on the market. Most people who are interested in domain name investing have to learn the ins-and-outs of domaining by trial and error. However, with the right advice and the right tools you can get up-to-speed quickly, and be more productive in your domain name buying and selling.
Neil from California asks: "I'm new to domaining and trying to get my processes down. I'd like to know what real domainers consider to be their essential tool — the one domaining tool that they feel like they can't live without."
Neil, repeat after me, "I am a real domainer." Don't sell yourself short. If you're getting serious about processes, then you've already differentiated yourself as someone who understands that domaining is indeed methodical and involves actual work and diligence.

In my opinion drop lists still offer up gems every day, and there are plenty of opportunities for domainers to hand-register domains for developing affiliate sites, keyword product landing pages for retailers, flipping, branding for new companies, etc. The challenge is there are so many drops and most of them are garbage. I use a service to alert me of drops that contain any of my desired keywords, but still, even to sift through the huge volume of domains that trigger those alerts is incredibly tedious and time consuming.

To speed up the process I rely heavily on the bulk appraisal capabilities of Estibot, which allows me to get a quick read on hundreds of domains with a single click. I pay little attention to the actual dollar amount of the appraisals, but inclusion of other stats such as keyword match searches, Alexa rating, CPC, SERP, DMOZ listed, etc., keeps me from having to look up all that information separately. The Estibot bulk appraisal tool satisfies a front-line preliminary research requirement and helps me quickly analyze thousands of domain name drops a day. Specific domains that make it past the Estibot bulk analysis stage get stats confirmed individually then get plugged into other processes and examined under different microscopes before a buying (or pricing) decision is made.

– Tom Garrett, Founder & CEO of BOM Enterprises LLC (@Domaining365)
I have published a top ten list of domaining tools that I cannot live without. It is difficult to narrow down the list to just one, so I'll provide a link to my full domain name tools list. However, if I had to pick just one it would be DomainTools.com. The ease of which I can do whois lookups, view previous owners and timelines using their whois history, perform a reverse IP lookup to see other websites on the same address, and monitor domain names of interest make it an indispensable tool that every domainer should have in their toolbox.

– Elliot Silver, Founder & Publisher at Top Notch Domains, LLC and Elliot's Blog (@ElliotsBlog )

Without a doubt it would have to be my smartphone. You just never know when an idea might pop into your head and you need to determine if the domain name is available. If you don't have the time or the ability to see if the name is available (for instance, if you're driving), you can always record a quick voice memo so that you don't forget your idea. A smartphone also allows me to instantly answer sales inquiries via email from interested parties so that my response is prompt. The quicker the answer, the less chance of the prospective buyer going elsewhere. Although 9 times out of 10, it allows me to weed out low-ball offers more quickly.

My smartphone has also helped me register names that have dropped where minutes and seconds are crucial. I'm sure I'm not the only domainer who has used the Go Daddy app to register a domain name in the middle of a round of golf! When I occasionally register a dropped name that I'm really excited about and I want to tell the world, I can send a tweet!

– Erin James, Co-Founder at Dough Domains (@DoughDomains)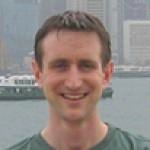 The one tool that I cannot live without is the Google Adwords Keyword Tool. I use this tool to get an estimate of how many people are searching for a particular keyword phrase on Google. I use this tool to better understand the development potential of expired domains as well how much traffic I could receive on my own domain if I ranked well for a specific term.

I also use the Google Adwords Keyword Tool to better understand how much money advertisers are willing to spend in order to acquire a customer or conversion. If the cost per click is high it can usually mean that a single customer/lead is worth hundreds of dollars and – if that's the case – I'm interested in the market. From picking domains, to choosing the best keywords to target, to understanding the kind of ad dollars that flow into a market, my life wouldn't be the same without the Google Adwords Keyword Tool.

– Morgan Linton, President at Linton Investments LLC (@MorganLinton)

What essential domaining tool can't you live without? Tell Neil! Leave a response.
Liked this Expert Q&A? Thank Tom, Elliot, Erin and Morgan on Twitter (click here – opens in new window)
If you enjoyed this article, subscribe for updates (it's free)