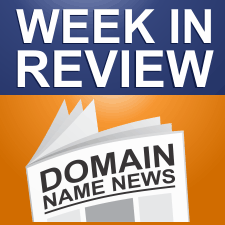 Every Friday, DomainSherpa.com provides you with a hand-selected, editorially-based review of the weekly news. In this summary, you will find the latest articles and videos produced by DomainSherpa staff and contributors. You will also find links to the best news articles in the domain name industry – so you don't have to spend your time searching for news or reading something that was not worth your time.
---
This Week's DomainSherpa Interview
---
VIDEO: A New Business Model in Credit Scoring – With Stacy Wakefield

The Internet abounds with offers for a free credit score – as long as you remember to cancel the automatic membership and charge to your credit card charge within two weeks.

Enter a new player in the industry offering unlimited credit scores, the ability to track your credit over time, and resources that will help you improve your score too – all without any fees. Coupled with these offerings is an affiliate system that affiliate marketers and publishers will want to take note of.
---
This Week's News in Review
---
The Most Important .tv Domain Turns 10 – 06-Sep-12
The one .tv domain name that has done the most to build the .TV domain name brand turned ten last month. And it doesn't even resolve to a web site.
Pinterest Fights Chinese Cyber-Squatter – 06-Sep-12
Chinese man has been snapping up dozens of domain names related to popular American start-ups and is seeking to trademark some of the names in the US and China. Qian Jin of Nanjing, China, has applied to register marks like Foursquare, Twitter, Quora and Instagram and has also bought dozens of websites like Pinterests.com and Pinterest.de
HowtoMarketHouses.com Provides Internet Marketing Ideas for Realtors – 05-Sep-12
Internet marketing ideas for realtors are now available at HowtoMarketHouses.com. Real estate professionals now have access to proven strategies to sell more properties online from this free real estate marketing information website.
Viet Nam: Fledgling Trade in Domain Names Creates Profits – 05-Sep-12
The business of obtaining and selling internet domain names is flourishing in Viet Nam, with some names fetching thousands of dollars.
One Extra Letter Sends Minnesota Voters to Wrong Website – 05-Sep-12
One extra character – the letter 'r' – in a website domain name included in the Minnesota Secretary of State's official voter's guide sent voters not to the intended state elections page but to a group suing Secretary of State Mark Ritchie in federal court and that is in favor of the Voter ID constitutional amendment that Richie adamantly opposes.
Homeland Security's Domain Seizures Worries Congress – 04-Sep-12
In a letter to the U.S. attorney general, Congress members cite concerns about "seizing the domain names of websites whose actions and content are presumed to be lawful, protected speech." The U.S. Department of Homeland Security is seizing domains and taking down URLs in the name of copyright infringement, but its tactics are worrying certain members of Congress.
gTLD Preparations: ICANN 2012 Nominating Committee Announces Selections – 31-Aug-12
The 2012 ICANN Nominating Committee (NomCom) has completed its selections for seven leadership positions within ICANN. Among them, Jennifer Wolfe, Managing Director of Wolfe Domain, was nominated to the GNSO Council. Her yet-to-be-released book, Domain Names Rewired, focuses on the dynamic environment of Brand Protection in the Next Generation of The Internet and how domain names, in particular, will be at the forefront of this sea change.
Religions Vie for Names Such as .church and .bible – 31-Aug-12
Centuries-old theological disputes have broken out in cyberspace as religions aim to influence the future presentation of faith on the Internet. The forum for the rivalry is not the pulpit or church bulletin, but the website of ICANN, the corporation that oversees the Internet address system and now wants to expand it beyond the usual .com, .org or .net domains.
Macth.com Owner Sues Match.com and CitizenHawk After Losing UDRP – 31-Aug-12
The owner of Macth.com has sued online dating company Match.com and domain name recovery firm CitizenHawk after losing a UDRP for her domain name. In a complaint filed in the Southern District of Florida (pdf), Liz Eddy is asking for declaratory relief and financial penalties. She says Macth.com is a generic typo.
Oops! Copyright Cops Return Seized RojaDirecta Domain Names – 19 Months Later – 30-Aug-12
One of Spain's most popular websites, whose American domains were seized in January 2011 as part of a crackdown on internet piracy, is getting its domains returned 19 months later, as the U.S. government voluntarily dropped its claim Wednesday.
"Notorious Cybersquatter" Loses UDRP Decision – 30-Aug-12
In a precedent-setting decision, a one-person UDRP panel labels Enom's Whois Privacy Protection Service, Inc./Whois Agent with the attention-getting stigma.

If you enjoyed this article, subscribe for updates (it's free)