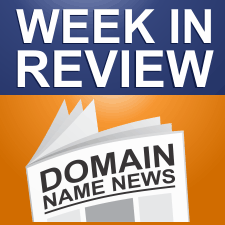 Every Friday, DomainSherpa.com provides you with a hand-selected, editorially-based review of the weekly news. In this summary, you will find the latest articles and videos produced by DomainSherpa staff and contributors. You will also find links to the best news articles in the domain name industry – so you don't have to spend your time searching for news or reading something that was not worth your time.
---
This Week's DomainSherpa Interview
---
VIDEO: Making Money on the Buy – With Andrew Rosener

In real estate, the stock market or domain name investing, it's an oft-stated business rule that you make your money on the buy, not the sell.

But how do you make sure you're value investing like Warren Buffett in the domain name industry? What do top domain name brokers look for when buying domain names for their own personal investment portfolio?

Today's interview answers those questions and more. Warning: this is a long show, but it's well worth your time as there are nuggets of gold around finding generic premium domains, contacting hard-to-locate registrants, making offers and a new reverse auction sales platform that's offering some great buying opportunities. Real buy and sell information, including pricing, is discussed.
---
This Week's News in Review
---
According to New Domain Name Registrations, Enterprise is Rolling Out My13days.com On October 10th
– 26-Sep-13
A bunch of new registrations by Enterprise Rental Car indicates the company is about to roll out a new advertising campaign using the domain name My13Days.com. The company recently registered the domain names…
Oversee.net Launches WanderWe for Getaway Market; Designed for Tablet
– 26-Sep-13
WanderWe was created for the traveler who is looking for a mini-vacation of 2-4 days. Launched in Beta, WanderWe helps travelers explore, collaborate, plan and book a short trip to destinations within a 500 mile radius from home. Using a tablet, mobile device or PC, users search the site based on their individual budget requirements and lifestyle interests.
CentralNic Buys Mex.com. YourName.mex.com Coming Soon?
– 26-Sep-13
Domain name company picks up Mex.com at auction and will likely use it to sell subdomains. Last month I wrote about an auction at Sedo for Mex.com. The auction closed for 29,111 EUR. The domain has changed hands and the buyer is domain name company CentralNic. CentralNic, which went public earlier this month, is known…
Frank Schilling Live From London: ".com Will Become Like am Radio"
– 26-Sep-13
The Digital Marketing & gTLS Strategy Congress conference kicked off today with Frank Schilling of Unregistry, laying out how he see the future of the domain name space and its the new gTLD program…
Lovelive.tv Gets Another $2.7 Million in Funding & is at $20 Million
– 25-Sep-13
Another site build out on a nice and brandable .TV domain name LoveLive.TV which started in 2012 just got an investment of $2.7 million dollars according to VentureBeat.com. "LoveLive helps record and distribute live performances from musicians. It also helps copyright holders monetize those performances through paid sponsorships from major brands, charging pay-per-view fees to fans who want to see the live stream, and managing distribution channels like YouTube and Vevo…
JetGo Guilty of RDNH After Filing "Seriously Misleading" Case Against Frank Schilling
– 25-Sep-13
Australian charter jet company didn't give the full story to WIPO panel. Frank Schilling's Name Administration has successfully defended another UDRP filed against one of its domain names. The three person UDRP panel also found the complainant guilty of reverse domain name hijacking. JetGo Australia, an airplane charter company, filed the complaint over the domain…
Walmart Goes After Gripe Website and Guy Responds With Angry Rant
– 25-Sep-13
Gripe site creator demands Walmart pay him before he hands over domain name. Walmart has filed a dispute under the Uniform Domain Name Dispute Resolution Policy (UDRP) to take control of the domain name WalmartDoorGreeter.com. The domain name was registered by a Missouri man who set up a gripe site about how much Walmart pays…
Block Your Trademark On 200+ Top Level Domains for $600 a Year
– 25-Sep-13
Donuts' service is not cheap, but it's much easier and cheaper than the alternative. Donuts, applicant for over 300 top level domain names, has launched its "Domains Protected Marks List" offering to trademark holders. The service allows trademark holders to block the registration of second level domains that contain their mark across all of Donuts'…
Entrepreneur.com & Verisign Launch Vote for The Best 100 .net Sites in The World
– 25-Sep-13
Entrepreneur.com along with Verisign, just launched a poll to pick the best 100 .net sites in the world…
New gTLD .xyz Rolls Out Site Out in German
– 25-Sep-13
Citing a "great response from the German market" the new gTLD .XYZ has launched their site in German as well…
.co Registry Sells Y.co to Monaco Yacht Company
– 25-Sep-13
Y.CO announced its newest sale of a .Co single letter web address, Y.com today as the 2013 Monaco Yacht Show gets underway. The purchase of y.co from .CO Internet S.A.S sees the super yacht brokerage and management company become the first luxury brand to migrate to a single letter domain and further reinforces the company's position as an industry leader in digital marketing and innovation…
Authentic Web Wants to Make .brand Domains EasIEr for Corporations
– 25-Sep-13
Company will act as domain name registrar and offer the workflows necessary for a corporate environment. Most large companies have a process in place for registering new domain names. This may get more complex when brands secure their own top level domains, such as .ford and .deloitte. Enter Authentic Web. The new company wants to…
Authentic Web Wants to Be Dot-brands' Pocket Registrar
– 25-Sep-13
Toronto-based start-up Authentic Web launched today with a set of workflow automation tools for dot-brand gTLD registries. Because ICANN requires all new gTLDs, even the closed ones, to make registrations via accredited registrars, there's often talk about dot-brands signing up with "pocket" registrars. That's what Authentic Web wants to be, according to CEO Peter LaMantia…
United Domains is All in With New TLDs and Pre-Registrations
– 25-Sep-13
Want to register a .com at United Domains? You'll need to poke around the site a bit. We know that new top level domains are a growth opportunity for domain name registrars. But should domain name registrars forgo current registrations in favor of promoting future registrations of new domains like order.pizza and play.games? That's what…
SuperYacht Company Rebrands As Y.co
– 25-Sep-13
YCO Yacht rebrands its business to Y.CO. A superyacht brokerage and management company has changed its brand to Y.CO, and announced the change in conjunction with the Monaco Yacht Show going on now. The company's previous brand was YCO Yacht, so the Y.CO domain name fit perfectly for it. This is a case where the…
ICANN Publishes Study On WHOIS Privacy & Proxy Service Abuse & Opens Up Comment Period
– 25-Sep-13
ICANN authorized a study conducted by the National Physical Laboratory (NPL) in the United Kingdom, to analyze gTLD domain names to measure whether the percentage of privacy/proxy use among domains engaged in illegal or harmful Internet activities is significantly greater than among domain names used for lawful Internet activities…
ICANN to Post Redline Changes to New gTLD Registry Contracts
– 25-Sep-13
According to a post by ICANN on its site it will start publishing redline versions of executed Registry Agreements as it " would be helpful to the entire ICANN community, and would also support ICANN's efforts to provide operational transparency"…
ICANN to Publish New gTLD Contract Changes
– 25-Sep-13
ICANN has decided to start publishing red-lined versions of its new gTLD Registry Agreements, so applicants can see what special terms ICANN is willing to accept. It's a reversal of its previous position, and follows complaints from applicants and back-end providers. So far ICANN has signed almost 50 new gTLD contracts, all of which have…
Donuts' Trademark Block List Goes Live, Pricing Revealed
– 25-Sep-13
Donuts' Domain Protected Marks List, which gives trademark owners the ability to defensively block their marks across the company's whole portfolio of gTLDs, has gone live. The service goes above and beyond what new gTLD registries are obliged to offer by ICANN. As a "block" service, in which names will not resolve, it's reminiscent of…
CentralNic Reports Profitable First Half
– 25-Sep-13
CentralNic today issued its first financial statements since floating on London's Alternative Investment Market earlier this month. The company is profitable, reporting profit before tax for the first half of 2013 that almost doubled to $636,000 on revenue that was up 16% at £1,735 million ($2.7 million). Revenue was down substantially and profit more or…
Google Beats Donuts in .games Top Level Domain Name Dispute
– 24-Sep-13
.Games domain names will likely be confused with .game domains, panelist rules. Donuts has lost another string confusion objection for a plural domain name, this time .games. Google, one of five applicants for the .game top level domain, argued that having both .games and .game as top level domain names would confuse internet users. It…
Are These The 107 New gTLD Extensions Donuts Partnered With Demand Media On?
– 24-Sep-13
Donuts.co which applied for 307 new gTLD strings has stated all along that they were in partnership with Demand Media (DMD) on 107 of the applications…
Techstars Buys Namelayer to Save Its Startups From Awful Domain Names – Venturebeat
– 24-Sep-13
TechStars is investing in its future startups in an interesting way: by buying a whole bunch of web domains…
.axis TLD Appears Dead After WIPO Decision
– 24-Sep-13
WIPO decides not to accept late response to objection. World Intellectual Property Organization has made a determination that it will not accept a late response to a Legal Rights Objection against .axis, thereby effectively killing off Saudi Telecom Company's bid for the top level domain. Axis Communications AB filed the objection against the .axis application…
Former OpenRegistry CEO Jean-Christophe Vignes Joins gTLD applicant Artemis
– 24-Sep-13
Former OpenRegistry CEO Jean-Christophe Vignes has joined new gTLD applicant Artemis as director of domain operations, according to Artemis. Artemis, which is one of the hopeful applicants for .secure, said "he will be in charge of building our Registry and Registrar capabilities for .secure". Vignes, a lawyer by trade, helped found registry service provider OpenRegistry…
OpenRegistry Gets €2m Financing
– 24-Sep-13
New gTLD registry services provider OpenRegistry has secured €2 million ($2.7 million) in financing, the company announced yesterday. The amount will be "spread over the coming year" and comes from, among other existing investors, Australian registrar Instra. The Benelux-based company will also see investment from the Luxembourgish government under a 'Young Innovative Enterprises' scheme. OpenRegistry…
Nine More New gTLD Contracts Signed
– 24-Sep-13
ICANN signed nine more new gTLD Registry Agreements yesterday. The contracts cover .kiwi, .futbol, .kitchen, .directory, .diamonds, .tips, .today, .enterprises, and .photography. All but .kiwi, which will be run by Dot Kiwi Ltd, were Donuts' applications. ICANN now has Registry Agreements with registries to manage 45 new gTLDs.
Related posts:
Eight more new gTLD contracts signed, six by Donuts
First new gTLD contracts signed
Donuts signs 12 more new gTLD registry contracts
Radix, TLDH & Westerdal Asks ICANN to Suspend All Pending Expert Panels in New gTLD Process – 23-Sep-13
Three large applicants to the new gTLD program sent a letter to ICANN yesterday to complaint about the Experts appointed by The Dispute Resolution Service Providers relating to the Community Objection process especially those at the ICC and asked ICANN to "ask all contracted arbitrators to temporarily suspend their decision making until ICANN can conduct a basic level of training for the actual Expert Panels on the AGB guidelines and their interpretations."…
Techstars Acquires NameLayer to Bring Premium Domain Names to its Portfolio – 23-Sep-13
To bolster its lineup of resources for its own startups, Techstars has acquired the entire portfolio of NameLayer, a popular inventory of brandable domain names curated for the tech market.
One More Sign That PayPal is About to Buy Braintree Payments – 23-Sep-13
Braintree domain names registered. The Wall Street Journal is reporting that PayPal is close to a deal to acquire Braintree Payments. Braintree handles payments for OpenTable, Uber Technologies and Airbnb, among others. If you need more proof that something is in the works, look no further than a flurry of recent domain name registrations. A…
Phil Corwin of ICA Appointed to Internet Committee of The International Trademark Association (INTA) – 23-Sep-13
Phil Corwin of the Internet Commerce Association (ICA) has been appointed to the serve on the Internet Committee of the International Trademark Association (INTA) for a two-year term commencing in January 2014…
Microsoft, Verisign & Yahoo! Send Joint Letter to ICANN: We Want an Update On Name Collision Mitigation Plan – 23-Sep-13
"The undersigned companies and organizations submit this letter to express our significant concern regarding several unresolved stability and security issues associated with the upcoming delegation of new gTLDs."…
FileSense, Inc. Loses 2nd UDRP This Year On The Domain Filesense.com – 23-Sep-13
FileSense, Inc. represented by Ronnie Allen Sheppick of Utah just lost its 2nd UDRP this year on the domain name FileSense.com…
Viacom CEO Loses Domain Dispute Against Cybersquatter – 23-Sep-13
Philippe Dauman loses UDRP, but that may not be the last of it. Viacom CEO Philippe Dauman has lost a UDRP for the domain name philippepierredauman.com He lost the UDRP because he didn't convince the panel that he had trademark rights in his own name. Panelist Richard G. Lyon followed the letter of the UDRP…
DomCollect Ag Loses UDRP On 18 Facebook Typo Domain Names – 23-Sep-13
DomCollect AG just lost a UDRP of a bunch of Facebook typo domain names that they didn't even bother to respond to…
Domain Name Registry OpenRegistry Picks Up 2m Eur Financing – 23-Sep-13
OpenRegistry, which operates .sx and is the registry provider for a number of new TLDs, has raised a round of funding. Domain name registry OpenRegistry announced today that it is raising 2M euro. The registry already provides technical services to run Saint Martin's .sx domain name. 21 applicants for new top level domain names selected…
1and1.com New gTLD Pre-registrations Blows Past 2 Million, Setting Off gTLD Pre-reservation Panic – 22-Sep-13
1and1.com which started a multimillion dollar national television advertising campaign which seemed to start around the first NFL games three weeks ago, just crossed the 2,000,000 mark in new gTLD pre-reservations…
Paris Opens Up Founders/Pioneer Program for 1st 100 .paris Domain Names – 22-Sep-13
The City of Paris opening up a submission period to allocate the first 100 .Paris new gTLD domain names. The city is opening two "Calls for Proposals" for the purpose of selecting the first domain names under ".paris" top-level domain (TLD). Interested parties can apply on the web site http://mondomaine.paris.fr to be among the first 100 first holders of a web site ending in ".paris"…
CADNA: Costs of Defensive New gTLD Registrations to Be Double The Total Cost of All .com Registrations – 21-Sep-13
As pointed out by the Phil Corwin of the Internet Commerce Association (ICA) The Coalition Against Domain Name Abuse (CADNA) has launched another offensive at the new gTLD program teaming up with the Council of Better Business Bureaus (BBB) to launch a month-long "'Know Your Net' gTLD public awareness campaign"…
One IE Pass, One Fail This Week – 20-Sep-13
ICANN is down to 18 new gTLD applications in Initial Evaluation now, after one pass and one failure this week. The pass is the dot-brand .lplfinancial, applied for by LPL Financial, a US-based broker. The company already owns the arguably better domain lpl.com. The failure, which is eligible for Extended Evaluation, is Top Level Domain…
New gTLD Plans November 30 Sunrise – 20-Sep-13
I-Registry, which signed an ICANN Registry Agreement for the new gTLD .onl this week, plans to launch its Sunrise period on November 30, according to the company. It's the first date for a new gTLD Sunrise period I've come across to date, though it is of course an informal target rather than a firm commitment…
AIDA Cruises Loses Domain Name Dispute to 2 Year Old Girl – 20-Sep-13
Owner of Aida.me registered domain name for his daughter. Cruiseline AIDA Cruises has lost a UDRP it filed against the domain name Aida.me. It turns out the owner of the domain name registered it for his two year old daughter, Aida. The owner provided a copy of his daughter's birth certificate as proof. He also…
Over 10,000 Records Now in Trademark Clearinghouse – 20-Sep-13
Number of records in Trademark Clearinghouse doubles since the middle of July. As of the end of August, the Trademark Clearinghouse for new top level domain names has 10,398 trademark records. That's double the amount as of the middle of July. Over 97% are for ASCII characters (e.g. the type of characters you're reading on…
ICANN Admits New TLD Auctions are Delayed – 20-Sep-13
The first ICANN auctions to settle new top level domain contention sets could take place in the middle of November. In a new top level domain applicant update webinar yesterday, ICANN VP of gTLD Operations Christine Willett admitted that new TLD auctions won't start in October as previously planned. The start date has been pushed…
Phishing Domains Double in 2013 – 20-Sep-13
The number of domain names registered for phishing attacks doubled in the first half of the year, according to the latest data from the Anti-Phishing Working Group. The APWG identified 53,685 phishing domains, of which 12,173 are believed to have been registered by phishers. The remainder belonged to compromised web servers. This 12,173 number –…

If you enjoyed this article, subscribe for updates (it's free)