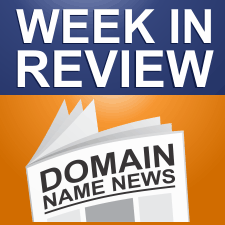 Every Friday, DomainSherpa.com provides you with a hand-selected, editorially-based review of the weekly news. In this summary, you will find the latest articles and videos produced by DomainSherpa staff and contributors. You will also find links to the best news articles in the domain name industry – so you don't have to spend your time searching for news or reading something that was not worth your time.
---
This Week's DomainSherpa Interview
---
VIDEO: The Woman Who Bought a Domain Name Instead of a House – With Rebekah Campbell

Campbell spent $28,000 to buy the single-word, premium domain name Posse.com for her fledgling business idea and expressed no regret over the decision.

That's understandable: After purchasing the domain name, Campbell was able to raise more than $3 million in multiple rounds to fund her startup. Find out how this premium, brandable domain name helped.
---
This Week's News in Review
---
Above.com Launches New Domain Investor Platform – 20-Sep-12
Above.com, a leading domain monetization management company, announced today the addition of a new Domain Name Marketplace, Domain Registrar and Escrow to their existing Above Parking Manager service. The fully integrated services combine to create a complete Domain Name Investor Platform.
DomainFest Dates Confirmed, Feb 5-8, 2013 – 20-Sep-12
With the TRAFFIC conference right around the corner, many domainers may be wondering if DomainFest is still going to occur. Andrew at DNW heard from Oversee that the show was still going on and Moniker is already taking auction submission, but it sure would be nice to make travel arrangements soon.
Lucky EarPods.com Domain Owner Wins The Apple Lottery, Could Net $2 Million – 20-Sep-12
Want to feel super jealous of someone who struck gold with a super lucky domain name purchase? Keep reading. Way back in 2004, an unnamed client of domain brokerage firm DNSR bought a URL: EarPods.com.
Moniker Accepting Auction Submissions for DOMAINfest 2013 – 19-Sep-12
It looks like Moniker and SnapNames will hold an auction in conjunction with Oversee.net's DOMAINfest Global 2013 conference next year.
Interviewer Becomes Interviewee – Michael Cyger on Hashtags.org – 19-Sep-12
Morgan Linton sits down with Michael Cyger and mines the data behind the launch of Hashtags.org
City of Paris Ordered to Pay $100k for Reverse Domain Name Hijacking – 18-Sep-12
A U.S. federal district court has ordered Ville de Paris (City of Paris) to pay $100,000 for reverse domain name hijacking and tortious interference. Judge Melinda Harmon also ordered the city to pay $26,830 in attorney's fees and costs.
SEO Firm Claims UDRP Domain Panelists Can Be Bought – 17-Sep-12
SEO Firm Ayima, based in the United Kingdom, claims that panelists that are a part of the UDRP domain name dispute process, can be bought. Apparently if you hire this SEO firm, they claim that you can acquire a domain name using their team of lawyers "who are panelists on the WIPO Arbitration and Mediation Center's Domain Name Panel".
Complaint Denied: First-Ever $1 Million Domain WallStreet.com Not Handed Over – 17-Sep-12
Back in June, Wall-Street.com LLC filed a UDRP against the owner of WallStreet.com. The complaint has now been denied by a three-member World Intellectual Property Organization panel.
Rwanda: Nation's Top Web Domain Handed Over – 14-Sep-12
After a seven-year long process of transferring Rwanda's Country Code Top Level Domain (ccTLD), ".rw"- from Belgium, finally Rwandans can now manage their national identity.
Pixel Capital Buys Accommodation.com and Accommodation.co.uk for $528,000 USD – 14-Sep-12
Australian company Pixel Capital Pty Ltd has added two travel oriented Domain names to its portfolio of web sites. The domains, http://www.accommodation.com and http://www.accommodation.co.uk, were bought for $528.000 USD.
Chinese Registry Announces Launch of .china (.中 国 ) Extension – 13-Sep-12
The China Internet Network Information Center, registry for the .cn domain, has announced the launch of the new .china (.中 国) Internationalized Domain Name (IDN) extension.
Gregg McNair Takes Equity Position and Chairmanship at Internet.bs – 13-Sep-12
McNair has acquired a substantial equity position in Internet.bs Corp. (IBS) and has also been appointed Chairman of the fast growing Bahamas based registrar that was founded in 2004.

If you enjoyed this article, subscribe for updates (it's free)