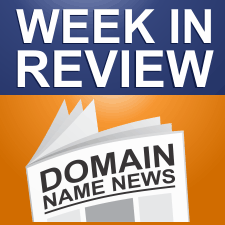 Every Friday, DomainSherpa.com provides you with a hand-selected, editorially-based review of the weekly news. In this summary, you will find the latest articles and videos produced by DomainSherpa staff and contributors. You will also find links to the best news articles in the domain name industry – so you don't have to spend your time searching for news or reading something that was not worth your time.
---
This Week's DomainSherpa Interview
---
VIDEO: How Finding the Right Domain Name Niche Made All the Difference for This DNForum.com Member – With Warrick Mulder

After a couple of years of buying, holding and renewing "pigeon shit" domain names, Warrick Mulder realized there was a better way. So he dropped all of the .com, .net and .org domain names that didn't earn any parking revenue or solicit any purchase offers and instead turned his attention to the top-level domain of his home country of South Africa: .co.za.

As a result, his monthly parking revenue from $100 to $2,000+ per month, he was able to reduce his domain registration fees from $7 to about $4.50 per domain, and his domain names sell for an average of $X.
---
This Week's News in Review
---
40 End-User Domain Sales
– 25-Oct-12
It was a busy week for end user domain sales: A university bought the name for its new mascot, a rehab center spent $30k on a category defining domain name, and a company bought a three letter .com as an acronym that likely cost less than it would have paid to get its longer name.
Cognac.com Sells for $140,000
– 25-Oct-12
Dallas company Weblabcenter has sold Cognac.com for $140,000. Weblabcenter bought the domain name in a Sedo GreatDomains auction in 2008 for $88,000. That's nearly a 60% return in about four years.
Locksmiths "Pick" Fight with Frank Schilling
– 25-Oct-12
IDN, Inc., the company that runs Locksmith Dealers of America (LSDA), picked a fight with the wrong guy. The company filed a UDRP against Frank Schilling's Name Administration over the domain name LSDA.com.
.XXX Operator Releases Main Wave of Premium Generic Keyword Domains
– 24-Oct-12
Following the highly-successful launch of the Internet's first Top Level Domain (TLD) porn search engine, Search.xxx, ICM Registry today announced the release of over 1,000 premium generic keyword domain names. These domain names are now available for registration on a first come, first served basis and many reflect the most popular key words searched by millions of adult content connoisseurs.
Russian Riot Police Gets Personalized Domain Name
– 24-Oct-12
The Moscow OMON riot police received an unusual present for its 25th anniversary, the personalized domain name omon.ru. The squad plans to use it to create its own social network to discuss various issues, play educational games and leave comments about the police service or the squad's operations. There are plans to connect the websites of the regional OMON units to the new domain.
Domain Sale Roundup: Bankruptcy Auction, .xxx, GreatDomains, and SnapNames
– 24-Oct-12
Some interesting domain offerings and auctions are on tap over the next 30 days.
InteriorDesign.com Hit with UDRP
– 23-Oct-12
Another day, another amazing UDRP filing. This time it's for InteriorDesign.com, which is owned by P. A. Gordon in Guam.
Chelsea Decorative Metal Company Acquires a New Domain Name Worth Millions
– 23-Oct-12
Chelsea Decorative Metal Company has a product that is unique to its industry and that would be tin ceilings. Tin ceilings have been around since the mid 1800s and add a special decorativeness to each new style throughout the years. Glenn "The Tinman" Eldridge is in charge of this family owned business and he has recently acquires the domain name http://www.tinman.com which he thinks is a million dollar name.
Now Available – SnapNames® Domain Name Auction Bidding App for AndroidTM
– 23-Oct-12
Continuing to provide businesses and consumers tools to acquire already registered domain names, SnapNames®, a KeyDrive S. A. company announced today the launch of their Android app.
Spammers Abuse .gov URL Shortener Service in Work-at-Home Scams
– 22-Oct-12
Spammers have found a way to abuse a URL shortener service destined for U.S. government social media activities in order to craft rogue .gov URLs for work-at-home scams.
Ancestry.com Agrees to Sale for $1.6B
– 22-Oct-12
Genealogy website Ancestry.com has agreed to be acquired by a group led by European private equity firm Permira Funds in a cash deal valued at about $1.6 billion.
Washington Man Sentenced to 40 Months in Federal Prison for Operating Piracy Sites
– 19-Oct-12
A Federal Judge has sentenced 36-year old Sang Jin Kim to 40 months in prison and ordered him to forfeit more than $400,000 in assets. Prosecutors charged Kim with criminal copyright infringement in November of 2011 and seized the domains 82movie.com and 007disk.com.
Lawsuits Against ICANN and New TLDs Start to Roll In
– 18-Oct-12
As plans for a 2013 rollout of new top level domains marches forward, two companies have sued ICANN to stop it from issuing certain top level domain names.
DOMAINfest Rebrands as Webfest Global
– 18-Oct-12
It was only a matter of time. Oversee.net's DOMAINfest has new name beginning with next year's show: Webfest Global.
If you enjoyed this article, subscribe for updates (it's free)