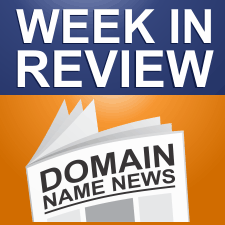 Every Friday, DomainSherpa.com provides you with a hand-selected, editorially-based review of the weekly news. In this summary, you will find the latest articles and videos produced by DomainSherpa staff and contributors. You will also find links to the best news articles in the domain name industry – so you don't have to spend your time searching for news or reading something that was not worth your time.
---
This Week's DomainSherpa Interview
---
VIDEO: Everything You've Ever Wanted to Know About UDRP – With David Weslow

Domain name disputes are happening more frequently every day. Why? And how can a UDRP impact you as an entrepreneur or domain name investor?

Intellectual property attorney David Weslow discusses the ins and outs of the UDRP process, including what is required when filing an action, how to defend against a claim, the approximate costs of filing a UDRP or law suit, and how you can prepare for the 1,400 new gTLDs to be launched in the upcoming years.
---
This Week's News in Review
---
Thank You: 2012 T.R.A.F.F.I.C. Awards, Best Domain Blog
– 11-Oct-12
Both Wayne Nelson and I were honored to be nominated as a best domain blog for the industry this year. And to win was truly a fabulous experience! Thank you to everyone who voted for DomainSherpa this year.
Move, Inc. Acquires Relocation.com for $11.5 Million
– 11-Oct-12
Realtor.com operator Move Inc. has purchased Relocation.com, a consumer-facing website that links homebuyers and renters with movers and storage facilities, for $11.5 million in cash, and will merge the company into its existing lead generation business for moving professionals, Moving.com.
Go Daddy to Auction 42 Single & Two-Character .ORG Domain Names
– 11-Oct-12
For the first time in the Internet's history, the domain name A.ORG and other single-character .ORG names are available to the public. Go Daddy and Public Interest Registry (PIR) are teaming up to auction 42 valuable single- and two-character domain names like I.ORG, S.ORG and TS.ORG on GoDaddy.com. Short and memorable, these domain names are expected to demand high interest in the aftermarket.
The EMD Update: Like Panda & Penguin, Expect Further Refreshes To Come
– 05-Oct-12
Last week, Google announced the EMD Update, a new filter that tries to ensure that low-quality sites don't rise high in Google's search results simply because they have search terms in their domain names.
Protrada Partners With Alex Mandossian to Reach New Audiences
– 05-Oct-12
Protrada, aggregator of major domain auction houses and premier domain name trading platform, today announced their new partnership with internet marketing thought leader, coach and teacher, Alex Mandossian.
Illegal Medicine Websites Closed
– 04-Oct-12
More than 18,000 websites selling illegal medicines have been shut down during a global crackdown on illicit internet trade in pharmaceuticals. Domain names for the websites have been taken down or the payment facilities have been removed, the Medicines and Healthcare products Regulatory Agency (MHRA) said.
The Exact Match Domain Playbook: A Guide and Best Practices for EMDs
– 04-Oct-12
Exact match domains have always been the source of a lot of contention among SEOs. For quite some time, EMD's have offered a competitive advantage for SEO's who understood how to use them.
If you enjoyed this article, subscribe for updates (it's free)