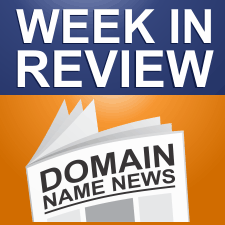 Every Friday, DomainSherpa.com provides you with a hand-curated, no-B.S., important domain name industry news.
In this summary, you will also find the latest tutorials and videos produced by DomainSherpa staff and contributors.
---
This Week's Featured DomainSherpa Show
---
VIDEO: How Michael Krell Turned a $1K Investment into a $100K Revenue Stream

Buy a domain name for up to $300 and sell it on average for $3,000.

Seems like a straightforward and highly desirable business model, but how do you actually find good names and then put them in front of buyers?

Michael Krell's story of turning a $1,000 investment into a $100,000 revenue stream is one that many of us aspire to. He lays out his approach in detail in this show.
---
In Addition, Don't Miss…
---
Domain Seizures; Moniker's Security Failures; Toby Clement's Restitution; Audience Questions…

In this DomainSherpa Discussion:
• 9,000+ domains were transferred by Verisign under a sealed court order. What were they and what can you do about it if you're affected?
• Multiple allegations claim Moniker.com has severe security flaws. Do you need to get your domains out of there ASAP?
• David Clements is paying those owed by Toby Clements on the Daily Domain Newsletter (DDN). Find out what to do to make your claim.
• Reader question: What happens with a new TLD goes "belly up"?
• Reader question: Will extensions matter in the future when 90%+ of Internet traffic is mobile and people speak what they want?
• Reader question: .TVs are being pulled back by the registry *after* being registered. What?!
• New TLDs launching this week: .Desi, .City, .NYC, .Attorney, .Lawyer — do the Sherpas care?
• And much more!
---
This Week's News in Review
---
Radix Buys .Tech From Dot Tech LLC and Plans a Q1 2015 Launch – 09-Oct-14
Radix announced the addition of .tech to its portfolio of new gTLDs. .Tech is an extension dedicated to the technology community, created and conceived for use by startups, software, hardware, hi-tech corporations and technical professionals. Leading new gTLD applicants including…
New gTLD 1st Day Registrations: .NYC 26853, .City 4094, .Lawyer 3240, .Attorney 2156, .Desi 320 – 09-Oct-14
Here are the domain name registration results from this week's 5 New gTLD launches: .Desi launched on the 6th of October and got 320 domains in its first day of general availability. 1 Donuts New gTLD went out of the EAP…
Big Apple's New .NYC Domain Adds 16k Registrations at Launch to Hit 27k – 09-Oct-14
.NYC off to a solid start, especially given registration restrictions. .NYC had a strong first day yesterday thanks, in part, to lots of press and advertising. It would have been even stronger if people outside NYC could register domains. The overnight zone file shows about 27,000 .nyc domain names registered. This doesn't include over 1,000…
.NYC Has 26,853 Domain Name Registrations After Its 1st Day – 08-Oct-14
.NYC launched today and the 1st day results are not as good as expected. .NYC added 20,455 domains after its general availability launch. So it now has a total of 26,853 registered domain names. I guess the Nexus policy hurt…
USA Today: New .NYC Domain Name Goes On Sale – 08-Oct-14
New York real estate is always in demand, and now New Yorkers have a chance to buy some — on the Internet.
ICA Changes Membership Structure, Add New Board Position & Voting Procedures for Board – 08-Oct-14
The Internet Commerce Association (ICA) announced today that it passed a resolution (Here is the full Resolution) which changes its membership structure, adds a new Board Positions & changes the voting procedures for members of its Board. Under the resolution the new levels of membership are as follows: Platinum members are for those individuals and/or…
See GoDaddy's Clever .NYC Barge Ad – 08-Oct-14
Barge message taunts neighbors across the Hudson. Earlier today I wrote about the highly anticipated launch of .NYC domain names. GoDaddy is promoting the domain name heavily around New York City, including a big ad on a barge being piloted on the Hudson River. Here are a couple photos of the barge, taunting New Jersey…
Moniker's Transition-related Security Holes Come to Light – 08-Oct-14
Moniker customer explains some of the security holes that may have led to his domains being stolen, including some introduced by the transition from the old Moniker system to a new platform. So it is sad to say goodbye to Moniker, and to witness the self-destruction of this company that played such a large role…
After Nearly a Decade, .nyc Finally Gets Its Day – 08-Oct-14
.NYC domain names available for registration today. The .NYC domain name goes into general availability for New Yorkers today after a long, citizen-initiated process. A Long Road In the middle of the last decade, a group of New Yorkers proposed the idea of creating a .NYC domain to the city government. The city council passed…
Uniregistry Wins .Cars gTLD – 08-Oct-14
Uniregistry has won the .cars new gTLD at auction. Donuts withdrew its competing application for the string this week. Third candidate DERCars' application is still showing as active on ICANN's web site. However, Uniregistry CEO Frank Schilling confirmed to DI that his company has won the contention set. The automobile-related gTLD space is quite congested…
Uniregistry Wins .cars gTLD – 08-Oct-14
Uniregistry has won the .cars new gTLD at auction. Donuts withdrew its competing application for the string this week. Third candidate DERCars' application is still showing as active on ICANN's web site. However, Uniregistry CEO Frank Schilling confirmed to DI that his company has won the contention set. The automobile-related gTLD space is quite congested…
Gay Community Not Gay Enough to Win New gTLD – 08-Oct-14
An applicant for .gay has lost its chance to get exclusive rights to the new gTLD, partly because the self-defined gay community it wants to represent is not "gay" enough. Dotgay LLC is one of four applicants, and the only "Community" applicant under ICANN rules, for .gay. But the company yesterday failed in its attempt…
Gay Community Not Gay Enough to Win New gTLD – 08-Oct-14
An applicant for .gay has lost its chance to get exclusive rights to the new gTLD, partly because the self-defined gay community it wants to represent is not "gay" enough. Dotgay LLC is one of four applicants, and the only "Community" applicant under ICANN rules, for .gay. But the company yesterday failed in its attempt…
Music Industry Gets Its Ass Handed to It By gTLD Panel – 07-Oct-14
The music industry-backed application for the new gTLD .music today suffered a humiliating defeat at the hands of a Community Priority Evaluation panel. The Far Further (.music LLC) application scored a pitiful 3 out of 16 possible points in the evaluation, missing the required 14-point passing threshold by a country and western mile. CPE is…
The Battle for 2 Character Domains in New gTLDs Continues – 07-Oct-14
The Governmental Advisory Committee (GAC) send a letter to ICANN on the 10th of September about the release of 2 character domain names in New gTLDs that a lot of registries are now requesting. It seems that the GAC is…
.eco Domain Name Applicant Gets Community Status, .gay and .music Don't – 07-Oct-14
.Eco applicant prevails with its own definition of the eco community; .gay and .music applicants don't. Three more Community Priority Evaluation decisions for new top level domain names have been completed. .Eco applicant Big Room Inc has succeeded in getting community status by earning the minimum required 14 of 16 points. This means that applicants…
.Eco Domain Name Applicant Gets Community Status, .Gay and .Music Don't – 07-Oct-14
.Eco applicant prevails with its own definition of the eco community; .gay and .music applicants don't. Three more Community Priority Evaluation decisions for new top level domain names have been completed. .Eco applicant Big Room Inc has succeeded in getting community status by earning the minimum required 14 of 16 points. This means that applicants…
.Now and .RealEstate Will Be Restricted, But Donuts Keeps .Tires Open – 07-Oct-14
It was a battle between open and restricted registration rules this week, as three more new gTLD contention sets were resolved between applicants with opposing policies. Donuts won .tires (open), Amazon won .now (closed) and the National Association of Realtors won .realestate (restricted). Donuts beat Goodyear and Bridgestone — two of the biggest tire companies…
The National Association of Realtors Wins Rights to .RealEstate Top-level Domain – 07-Oct-14
The National Association of Realtors® has won the rights to the new .realestate top-level domain. NAR intends to use the .realestate domain along with the recently acquired .REALTOR domain to create order for real estate information on the Internet and…
BRS Media Submits Reconsideration Request for Dot Radio – 07-Oct-14
BRS Media the company behind .FM, .AM and Idotz.net, put out a press release that they have submitted a reconsideration request pertaining to the Dot Radio extension. They are seeking to overturn a ruling from last month which said that the European Broadcasting Union had the winning community priority evaluation score. From the release: On…
Frank Schilling's Uniregistry Adds Two Rock Stars to the Company's Management Team – 06-Oct-14
Vern Jurovich and Michael Ward – two universally respected industry veterans, each of whom brings a wealth of experience to their new positions at Uniregistry. Jurovich comes on board as Chief Operating Officer while Ward assumes the role of Director of Registrar Operations.
Marchex Files Federal Suit Over UDRP On Banco24horas.com and Banco24horas.net – 06-Oct-14
Marchex Sales Inc, filed a Federal Lawsuit in the Eastern District of Virginia today over the domain names, banco24horas.com and banco24horas.net which were awarded in a UDRP to Tecnologia Bancaria S.A. of Brazil. The lawsuit is for Reverse Domain Hijacking and for Declaratory Relief Under the Lanham Act 15 USC 1114(2)(d)(iv)-(v) & For Tortious Interference…
New gTLD 1st Day Registrations: .BAYERN 19170, .OVH 12519 (Free), .DEALS 2592 – 06-Oct-14
I wrote this and then totally forget to post it. Here are the domain name registration results from last week's 3 New gTLD launches: .BAYERN launched on the 30th of September and got 19,170 domains in its first day of…
.NYC One of Five Top Level Domains Launching This Week – 06-Oct-14
.NYC launches this week and Donuts' well runs dry. It's time for the weekly overview of new top level domain names coming out this week. It will be brief, as just five are on the docket as best I can tell. But one of them is certainly big. Monday I think .Desi (definition) went live…
National Association of Realtors Wins Rights to The New gTLD .RealEstate – 06-Oct-14
The National Association of Realtors has won the rights to the new gTLD .Realestate The three other applicants for .Realestate Donuts, Uniregistry and and Top Level Domain Holdings (Minds + Machines) have withdrawn their applications. The remaining applicant is dotRealEstate LLC is in actuality the The National Association of REALTORS® (NAR), which already owns the…
Eurid Second Quarter Progress Report – Registrations Increase 0.9 % – 06-Oct-14
Eurid released its second quarter report. You can download the pdf which gives a complete breakdown of stats and graphs. During Q2 2014, the number of .eu registrations increased by 32,791 domain names, a net increase of 0.9%, to 3.83 million. The total number of .eu domain names registered at the end of Q2 represented…
Planet Fitness Guilty of Reverse Domain Name Hijacking – 06-Oct-14
…as the company wastes money with a reactive approach to intellectual property management. Planet Fitness, a chain of over 800 fitness clubs in the United States, has been found guilty of reverse domain name hijacking for its attempt to get the domain name judgmentfree.com. This is despite the domain name owner not even responding to…
.Attorney & .Lawyer Launch Wednesday & Each Have Only 140 Sunrise/Early Registrations – 06-Oct-14
.Attorney a .Lawyer both launch into general availability (GA) where domains can be registered on a first come, first served basis by Rightside (Name). Both extension have already gone through Sunrise period for trademark holders and in the Early Access Program (EAP) for those who are willing to pay additional fees to register domain names…
.PT Allows Registration of 2-character Domains and Holds Sedo Auction With 51 Domains – 06-Oct-14
As of November 3, it will be possible to register two-character domains at .pt. Terms & Conditions are already available for consultation at dns.pt. .PT is the country code top-level domain (ccTLD) for Portugal. Sedo will host an auction featuring…
Analyst: New TLDs to Hit $500 Million in 3 Years – 02-Oct-14
Report forecasts strong opportunity for new top level domain applicants. B. Riley & Co analyst Sameet Sinha issued a report today estimating that new TLDs should go "from Zero to $500MM in Three Years". The report also initiates coverage of Rightside with a buy rating and a $15 price target. The stock currently trades for…
As Many As 5,000 .com's Taken Away By Sealed Court Order By Verisign Including Some Owned by Mike Berkens – 02-Oct-14
Overnight I received a notice that several domain names I owned were transferred by a sealed court from Verisign without notice and of course without the court order. The domain names just were transferred by Verisign to another domain and are now listed for sale at another marketplace. Another domainer sent me an identical notice…
Freenom Adds .GQ to Free African ccTLD Roster – 02-Oct-14
Freenom has struck a deal with registry for the once-dormant ccTLD for Equatorial Guinea to offer .gq domain names for free worldwide. The ccTLD is the latest from Africa to buy into the company's free domains model, after .cf (Central African Republic), .ml (Mali) and .ga (Gabon). The local registry for Equatorial Guinea is telecom…
Minds + Machines Says .law & .abogado (Spanish for Lawyer) Will Only Be for Lawyers – 02-Oct-14
Minds + Machines, which won the private auction for .Law a couple of weeks ago announced that .Law and .Abogado (Spanish for Lawyer, M+M was the only applicant for .Adogado) are expected to launch in early 2015. Both .Law and .Abogado will be restricted to licensed lawyers or law firms, and all initial applications and…
Donuts Aims for Million Domain Name Milestone This Month – 02-Oct-14
Customers have registered 960,000 second level domain names under Donuts' domain names. Donuts, the largest registry for new top level domain names, hopes to sell its millionth domain name registration this month. The company's latest newsletter pegs its total registrations at 960,000 across 147 top level domains. That's an average of about 6,500 per top…
.NZ Second-level Names Now Available – 02-Oct-14
The New Zealand Domain Name Commission has started making second-level domains under .nz available for the first time. Like .uk, which opened up the second level this year, .nz names have previously only been available at the third level, under .co.nz, .net.nz and over a dozen other extensions. But from this week, existing registrants will…
"Frustrated" Morocco Denies It Supported .tata gTLD – 02-Oct-14
The Moroccan government claims that it did not give its support to the .tata dot-brand gTLD, which was granted to Tata Group, the massive Indian conglomerate, in July. According to Boubker Seddik Badr, director of digital economy at Morocco's ministry of trade, .tata "did not receive any endorsement from any Moroccan authority". In a September…

If you enjoyed this article, subscribe for updates (it's free)