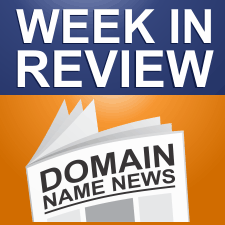 Every Friday, DomainSherpa.com provides you with a hand-selected, editorially-based review of the weekly news. In this summary, you will find the latest articles and videos produced by DomainSherpa staff and contributors. You will also find links to the best news articles in the domain name industry – so you don't have to spend your time searching for news or reading something that was not worth your time.
---
This Week's DomainSherpa Interview
---
VIDEO: Pawn Your Domain Names for Fast Cash – With Matt Collins

Matt Collins is one of the original pawn stars of the domain name industry, and his latest venture continues with a business model to serve companies and individuals who own valuable domain names, patents, trademarks or other intellectual property often shunned by traditional lenders.

If you are a fan of Pawn Stars, Hardcore Pawn or any of the other pawn-related reality TV shows, you are going to love this interview.
---
This Week's News in Review
---
Francois Carrillo Launches Option Service to Buy Domains With Less Risk
– 29-Nov-12
Carrillo has been looking for a way to buy domains (or at least the option for it) at a reduced price, to reduce the risk in domain flipping. His result is Optioning.com, which will launch soon.
Will .website Domains Give .ws a Boost?
– 29-Nov-12
The government of the State of Somoa submitted early warnings on top level domain applications for the .website string. So what's Somoa upset about?
Domain Wars: South America Vs. Amazon.com
– 28-Nov-12
Domain wars: South America vs. Amazon.com. LIMA — Brazil and Peru are attempting to block online retailer Amazon.com Inc. from acquiring new internet domains using the name of the world's greatest tropical rain forest.
Go Daddy to Auction .info "Sunrise Pending Reallocation" Domains
– 28-Nov-12
Domain name registry Afilias is working with Go daddy to auction off over 100 domain names claimed in the .info sunrise that were later deemed ineligible. The 106 domain auction runs December 4 through December 14.
Attackers Hijack The .ro Domains of Google, Microsoft, Yahoo, Others
– 28-Nov-12
The Romanian domain names of Google, Yahoo, Microsoft, Kaspersky Lab and other companies were hijacked on Wednesday and were redirected to a hacked server in the Netherlands.
Lean Domain Search Integrates Sedo Domain Listings
– 27-Nov-12
Aftermarket domains debut on Lean Domain Search.
Have You Enabled Two-Factor Authentication on GoDaddy.com Yet?
– 27-Nov-12
Last week a "small number" of Go Daddy customers were affected by a DNS attack. The company suspects the affected accounts were subject to phishing accounts or the users' computers were infected.
ICA To DOC: Slash .Com Pricing by $2+, and Tie Future Price Hikes to CPI
– 27-Nov-12
In the past two years VeriSign has bestowed "special dividends" on its shareholders totaling nearly $1 billion, still has a cash pile exceeding $1.4 billion, and has so little need for all that cash that it is planning to spend more than half of it on stock buybacks. Meanwhile, under the .Com registry operations renewal Agreement already okayed by ICANN, it stands to reap more than $1.2 billion in above-market rate excess profits over the next six years. Nice monopoly work if you can get it.
37 End User Domain Sales
– 26-Nov-12
As always, an interesting and thought-provoking mix of domain names were sold at Afternic and Sedo.
Feds Seize 132 Domain Names to Stop Knockoff Sales
– 26-Nov-12
Federal law enforcement authorities have announced the seizure of 132 domain names in several countries to stop them from selling counterfeit merchandise online.
.za Central Registry Operator Agreement Signed
– 23-Nov-12
The ZA Domain Name Authority (ZADNA) and UniForum SA, signed the .ZA Central Registry Operator Agreement in Joburg earlier this week, which is the culmination of several years of research and is intended to transform the .za name space into a world-class, innovative and standards-driven domain name registry.
Canada's .ca Domain Hits 2 Million Mark
– 23-Nov-12
There are now two million .ca domain names, the Canadian Internet Registration Authority (CIRA) announced Thursday.
GAC Issues Early Warnings For gTLD's
– 23-Nov-12
The Government Advisory Committee has released it's list of disputed gTLD's, otherwise known as "Early Warnings."
If you enjoyed this article, subscribe for updates (it's free)