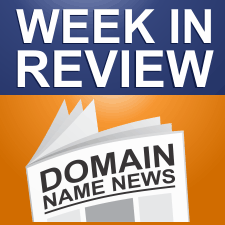 Every Friday, DomainSherpa.com provides you with a hand-curated, no-B.S., important domain name industry news.
In this summary, you will also find the latest tutorials and videos produced by DomainSherpa staff and contributors.
---
This Week's Featured DomainSherpa Show
---
---
In Addition, Don't Miss…
---
Massive Volume .Mobi; Tracking Elusive Registrants; IDN Value; Shameless.Sucks; .Video Vs. .TV

In this DomainSherpa Discussion:
• A massive search volume word but in .MOBI – worth the hand registration?
• How to find the elusive registrant with either bad or fake information
• IDN.com or IDN.IDN, do they have any value today?
• Shameless.Sucks shows up at INTA with condoms and an insulting billboard
• Which new gTLDs the Sherpas WON'T be renewing in the upcoming year
• How today's new gTLD launch of .Video compares to the established ccTLD .TV
• And much more!
---
This Week's News in Review
---
.Club Turns 1 and These 17 Registrars are Selling Domains for $1
– 07-May-15
Registrars offer $1 special on .Club domains on first anniversary of launch. .Club is celebrating the one year anniversary of its general availability. As part of the celebration, 17 registrars are offering .Club domain names for about a dollar today only. (See the list at the end of this post). The registry put out an…
TheVerge.com Calls Purchase of RandPaul.com for $100k "Ransom"
– 07-May-15
TheVerge.com is apparently on the Verge of calling anyone who owns a domain name and is looking to sell it a Cybersquatter and somehow is calling on the next President of the United States to outlaw the practice of buying a domain name and selling it. The story is about Rand Paul purchase of RandPaul.com…
Beautiful People Magazine Guilty of Reverse Domain Name Hijacking On BeautifulPeople.com
– 07-May-15
Beautiful People Magazine, Inc. has just been found guilty of Reverse Domain Name Hijacking (RDNH) The Magazine filed a UDRP on five domain names: BeautifulPeople.com BeautifulPeople.net beautifulwomenonly.com gaybeautifulpeople.com beautifulpeoplegay.com The three member panel of Jeffrey M. Samuels Esq., Jonathan Hudis Esq. and Alan L. Limbury Esq. found the Complainant knew it could not prove bad…
Congress to Put .Sucks On Trial
– 06-May-15
The US Congress is to hold a hearing to look into the .sucks gTLD and ICANN accountability. A hearing entitled "Stakeholder Perspectives on ICANN: The .sucks Domain and Essential Steps to Guarantee Trust and Accountability in the Internet's Operation" has been scheduled by the House Subcommittee on Courts, Intellectual Property, and the Internet It will…
Dot-brand gTLD Guilty of Domain Name Hijacking
– 06-May-15
Fashion retailer Mango, which owns its own dot-brand gTLD, has been found guilty of Reverse Domain Name Hijacking after allegedly doctoring evidence in a .uk cybersquatting case. The company, which runs .mango, lost a Nominet Dispute Resolution Service complaint against New Zealand-based domain investor Garth Piesse over mango.co.uk and mango.uk. It's only the sixth RDNH…
WHOIS Privacy Reforms Incoming
– 06-May-15
Whois privacy services will become regulated by ICANN under proposals published today, but there's a big disagreement about whether all companies should be allowed to use them. A working group has released the first draft of its recommendations covering privacy and proxy services, which mask the identity and contact details of domain registrants. The report…
Carly Fiorina Jokes About Registering SethMeyers.org
– 06-May-15
Presidential hopeful jokes with comedian about domain names. There's been quite a bit of mainstream coverage this past week about presidential candidate Carly Fiorina and domain names. The press has said that she forgot to register CarlyFiorina.org. Some other person registered it and is using it to highlight layoffs under her tenure at HP. (As…
Namecheap Launches Online Marketplace for Small Businesses
– 06-May-15
Namecheap is launching a new marketplace today for small businesses according to Tech.co Rick Kirkendall, the CEO of Namecheap is quoted saying "The Marketplace is similar to the Apple app store, where external developers can submit apps for people to use to make building their websites easier, after they already have a domain," says …
Organizer of "Great Run" Events Engaged in Reverse Domain Name Hijacking
– 06-May-15
Panel finds that group brought was attempting to reverse domain name hijack GreatRun.com. Nova International Limited, the company that organizes the Great Run series of events, has been found to have engaged in reverse domain name hijacking in a UDRP for GreatRun.com. The complainants use the domain name GreatRun.org, which it registered in 2002. Panelist…
Alpnames.com Offering Free .Party New gTLD Domain Name Registrations
– 06-May-15
Alpnames.com the registrar who offered free and then $.49 domain names for .Science which just broke the 250,000 domain registration mark, announced today that is was now offering free .Party domains. Famous Four Media is the registry for both .Science and .Party. As we discussed before Alpnames.com which is located in Gibraltar as is Famous…
Campaigns and Cybersquatters Register Domains Up to Decades in Advance
– 05-May-15
CNBC published an article an hour ago taking a look at the brisk action in candidate domain names. "They're the modern-day real estate," said Amichaim Abramson, an entrepreneur based in Brooklyn, New York, who bought a number of domains for future elections across the political spectrum. He said he hopes to help candidates he supports…
.NGO/.ONG Launches Today for Non-profits; New gTLDs Done Right: Here is What You Need to Know
– 05-May-15
The Public Interest Registry (PIR) which operates the .Org domain name extension, is launching .NGO and .ONG today into general availability for Non-profit, non governmental organizations. The new gTLD domain name extension go live at 8pm EST tonight to be registered on a first come, first served basis. I had a chance to chat with…
Verisign Wants Patent for "Searchable Web WHOIS"
– 05-May-15
Company files patent application for improved whois searching across multiple registries. Verisign has filed a patent with the U.S. Patent and Trademark Office for a "searchable web whois". The application was filed in 2012 and just published today. The patent application suggests that current whois search, especially across multiple registries, is hard. It claims that…
Most ICANN New gTLD Breaches Were Over a Year Ago
– 04-May-15
Almost three quarters of the security breaches logged against ICANN's new gTLD portal occurred over a three-month period in early 2014, DI can reveal. Almost every incident of a new gTLD applicant coming across data they weren't supposed to see — 322 of the 330 total — happened before the end of October last year,…
Company That Bought Brand.com for $500k Sells It for $300k & Files Bankruptcy
– 04-May-15
According to technical.ly, after spending $500,000 for the domain name Brand.com, the company formerly known as Reputation Changer filed for Chapter 7 bankruptcy last month. Technical.ly says according to the filing, Brand.com sold its domain for $300,000 . The domain name is currently in escrow.com at Igloo.com Technical.ly also reports that the company sold the domain name…
.Porn and .Adult Sunrises Net Around 8,000 Sales
– 04-May-15
The sunrise periods for .porn and .adult netted just shy of 4,000 domains per TLD, according to ICM Registry. The company said .porn received 3,995 registrations while .adult trailed slightly with 3,902. Those numbers are a combination of regular Trademark Clearinghouse sunrise registrations and Sunrise B registrations. The ICANN-mandated sunrise periods ended April 1 and…
.XYZ Featured On HBO's Silicon Valley
– 04-May-15
Tech company on show creates division using .xyz domain name. The .XYZ domain name was featured on HBO's Silicon Valley last night. A big tech company featured in the show, Hooli, creates a new experimental division for moonshot projects called Hooli XYZ, hosted at Hooli.xyz. The show created a website on Hooli.xyz. The site says:…
New TLDs (.XYZ?) Boost Web.com's Bookings
– 04-May-15
"Very aggressive" new TLD promotions paying off for Web.com. Many in the domain name community blasted Web.com and .xyz for the hundreds of thousands of free domain names Web.com gave away last year through Network Solutions. Was it, perhaps, a brilliant business move? Web.com reported a bookings boost this past quarter, and the company says…
"Naked Aggression" or Genius? .Sucks Trolls Trademark Event
– 04-May-15
.sucks registry Vox Populi has annoyed intellectual property interests by trolling a trademark conference with a .sucks mobile billboard. As tweeted by corporate registrar Marksmen, which described the move as "naked aggression", attendees to the International Trademark Association conference in San Diego, California saw this roaming the streets this weekend. Spotted on the streets of…
Marksmen and Com Laude, Launch MCL Domains to Be Based in Seattle
– 01-May-15
Marksmen and Com Laude, announce the launch of MCL Domains "offering efficient, reliable corporate domain name management services for North America. MCL Domains opens for business this week at the 2015 International Trademark Association's annual meeting in San Diego. MCL Domains combines Marksmen's strategic and investigative acumen with Com Laude's advanced technical platform, global registrar…
DNSeattle Returning for Round 2! Next Month's 2015 Meetup Follows Sold Out Debut in 2014
– 30-Apr-15
Seattle has long been a focal point of domain industry activity, so when DomainSherpa's Michael Cyger decided his hometown should have a high profile meetup for the area's many industry professionals, no one was surprised to see the debut event he organized (held atop the iconic Seattle Space Needle in January 2014) quickly sell out.
Domain Auction in Beijing: 52.com sold for $1,775,400 USD; 32.cn for $274,380…
– 30-Apr-15
The Second Beijing Domain Auction was successfully held in Beijing, China on April 24, 2015. The auction resulted in seven figures worth of domain sales. We've included pictures from the event including some results from the domain auction. For those who are interested in the Chinese market but were unable to attend the event, we hope you enjoy.
ICM Registry Just Made $1.2 Million On Sunrise Registrations for a $370k Investment
– 30-Apr-15
The ICM registry, which is the operator of .XXX, announced a short time ago that their two new extensions .porn and .adult each got around 4,000 registrations in the Sunrise Period which was opened to trademark holders. The wholesale cost for each sunrise registration was just $62, which is quite a bargain considering that the…
.Porn and .Adult Domain Names Break Sunrise Records
– 30-Apr-15
Provocative domains, low pricing, marketing and promotion with Trademark Clearinghouse boost early numbers for new adult domains. ICM Registry announced today that its .Porn and .Adult domain names each received about 4,000 registrations during the sunrise trademark period. That's more than any other new top level domain names to date. The strong interest was certainly…
.Me Passes 800k Registrations
– 30-Apr-15
The .Me Registry announced today that they passed the 800,000 mark in the number of registered domain names. If .Me was a new gTLD and not a ccTLD it would be the 2nd most registered, however they have not offered to my knowledge free domain names at any point Here is the announcement: ""We Hit…
Dumb ICANN Bug Revealed Secret Financial Data to New gTLD Applicants
– 30-Apr-15
Secret financial projections were among 330 pieces of confidential data revealed by an ICANN security bug. Over the last two years, a total of 19 new gTLD applicants used the bug to access data belonging to 96 applicants and 21 registry operators. That's according to ICANN, which released the results of a third-party audit this…
ChinesePot.com Owner Can Keep Domain Name Despite Not Responding to UDRP
– 30-Apr-15
Owner of ChinesePod.com loses case against ChinesePot.com. Language instruction service Chinesepod Limited, which uses the domain name ChinesePoD.com, has lost a UDRP against the owner of ChinesePoT.com. It's a case of a "typo" also being a common word. The owner of ChinesePot.com didn't respond to the UDRP, but ChinesePod didn't convince a World Intellectual Property…
GoDaddy Purchases The Domain Gddy.com Through Right of The Dot
– 30-Apr-15
GoDaddy Inc. (NYSE: GDDY) announced it has bought the domain name GDDY.com that correspondents to its New York Stock Exchange ticker. When visited, GDDY.com takes individuals to GoDaddy's Investor Relations page, enabling anyone to quickly find out more about the…
.XYZ Dismisses Own Ads As "Puffery"
– 30-Apr-15
XYZ.com has dismissed its own claim that .xyz is the "next .com" as "mere opinion or puffery", in an attempt to resolve a false advertising lawsuit filed by Verisign. Attempting to get the lawsuit resolved without going to the expense of a full trial, the registry has filed with the court a lengthy, rather self-deprecating…
GoDaddy Getting Out of Nascar, Whatever That is
– 30-Apr-15
GoDaddy is dropping its sponsorship of a NASCAR racing car, largely because Johnny Foreigner doesn't have a clue what NASCAR is. The company has been sponsoring Stewart-Haas Racing and driver Danica Patrick since 2007; Patrick is a spokesperson appearing in many commercials. But now GoDaddy says it is dropping the deal at the end of…
If you enjoyed this article, subscribe for updates (it's free)